The government must develop and implement its climate plans faster in order to achieve the ambitious 2030 emissions targets. At the current rate, it would not be possible to reduce emissions by at least 55 percent, the Dutch Environmental Assessment Agency (PBL) warned on Tuesday.
In September, the Planning Bureau has already published temporary numberswhich showed that the Netherlands would emit 39 to 50 percent less emissions in 2030 than it did in 1990. For this estimate, the CTC considered only government plans that had already been clearly established.
In the calculations that PBL will publish on Tuesday, researchers are also looking at a less advanced policy. This doesn't seem to make much of a difference: With these additional measures, the emission reduction comes to 41 to 52 percent. This is only slightly above and still well below the government's target. And many European climate and energy savings targets remain elusive.
Compared to last year's accounts, little has changed. Since there will be more wind farms offshore, PBL assumes cleaner electricity production in 2030. The researchers also expect energy prices to remain higher than previously expected throughout the entire decade. As a result, families and businesses will save more energy and invest in sustainability.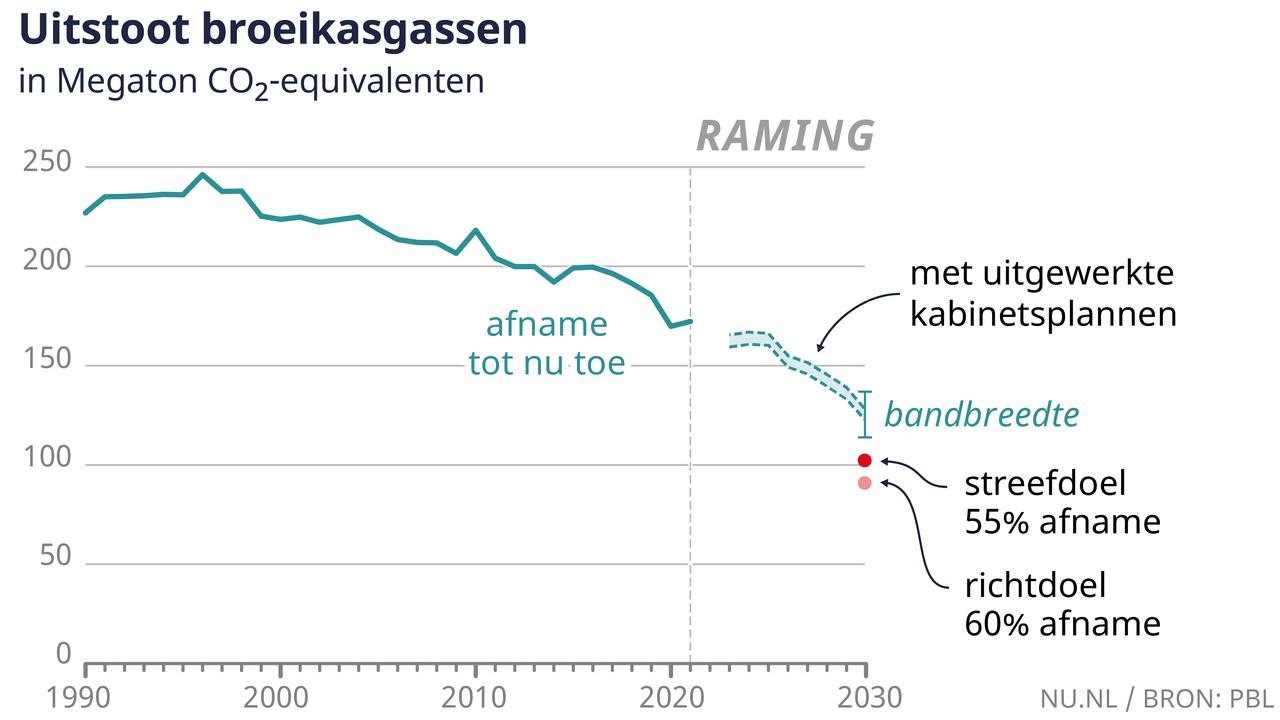 "Practice and run faster"
Much of the Rutte IV Cabinet's climate policy has not been taken into account by the PBL. Many of the plans remain so vague that their implications are unclear. This relates, for example, to the purchase of livestock farms as part of the nitrogen approach, road pricing for motorists and the adjustment of energy taxes.
"Many plans have been made, but not yet sufficiently developed," notes PBL researcher Peter Hamminge. "It is also not yet sufficient to achieve climate targets with sufficient certainty. This demonstrates the urgent need for faster policy development, faster implementation, and more policy thinking."
Climate Minister Rob Gettin believes climate policy is "on the right track," he said in his response. "With each climate estimate, we see that greenhouse gas emissions continue to decline." Because, according to the PBL, the goals have not yet been achieved, he still wants to look for additional measures.
The cabinet does not abide by its ambitions
Remarkably, the PBL also indicates that the government is less ambitious than it claims. In the alliance agreement, VVD, D66, CDA and ChristenUnie agreed to reduce CO2 emissions by at least 55 percent. To ensure this goal is achieved, the policy will target 60 percent minus.
But the latter did not happen, Hamming says. Last summer, Climate Minister Rob Getten set the amount of greenhouse gases different sectors are allowed to emit in 2030. If you add up the so-called remaining emissions, emissions fall by 50 to 58 percent.
Even if these goals are achieved, 55 percent is not certain, and 60 percent remains out of the picture. "If they really want to target 60 percent, those remaining emissions have to be more ambitious," Hamminge says.
It is not known if Gettin will now adjust emissions targets for different sectors. The minister wrote earlier that he could still do so if the PBL deemed it necessary.

"Lifelong zombie fanatic. Hardcore web practitioner. Thinker. Music expert. Unapologetic pop culture scholar."