Microsoft will make its AI assistant Windows Copilot generally available on September 26. The update that adds this tool contains more than 150 new features, most of which were already available in beta versions earlier this year.
Microsoft will integrate Windows Copilot into the operating system's taskbar, The Verge writes based on the tech giant's presentation. With one click the application becomes available in a side panel. In addition to users being able to ask the bot questions, just like with Bing Chat, it can also open Windows settings and apps, and enable or disable system functions like dark mode.
Not only does Copilot run on Windows, it must also be able to connect to the user's phone. For example, in the presentation, the prompt "Find information for my October trip to New York in my text messages" was completed on a computer, and the AI ​​assistant then searched through messages on the user's phone for the correct information. Copilot can also be used to send a text message to a contact without unlocking the phone itself.
Finally, it shows that the Windows Snipping Tool will also become compatible with Copilot. For example, Assistant should be able to automatically remove backgrounds from cropped images and instantly open screenshots in the Adobe app. Additionally, Copilot can read Snipping Tool screenshots. For example, an example of a math problem is displayed in a PDF file. If a screenshot is taken, Copilot can see it and resolve the amount immediately.
Update 19.13: An earlier version of this article stated that this was update 23H2. In a blog post from Microsoft Company reports However, this update is still part of 22H2. The article has been modified accordingly.
Other features in the update
In addition to Copilot, the update also contains a lot of other new features, almost all of which were made available in previous beta versions. This also applies to the Ink Anywhere function. On Surface devices, this allows you to draw anywhere on the screen with the pen. In addition, Explorer has a new look with larger images and a Home page that displays your most recent and favorite files.
Furthermore, Windows Hello will have access to passkeys, Paint will have a dark mode, an updated Outlook app will be available, and Windows will have RAR and 7-zip support built-in. The update also comes with an audio mixer Quick settingsPanel It becomes possible to control RGB devices from Windows Settings. There will also be a standalone backup app that allows users to more quickly back up their computer data to the cloud. When you set up a new computer, existing settings can be transferred immediately. Microsoft has yet to announce the full list of new features at the time of writing.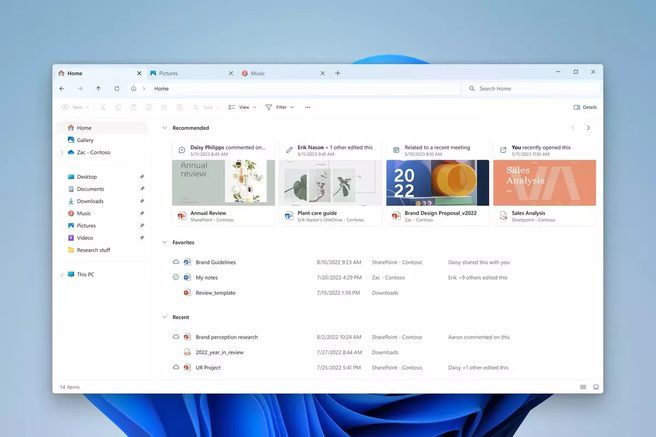 "Lifelong zombie fanatic. Hardcore web practitioner. Thinker. Music expert. Unapologetic pop culture scholar."