During Low gas prices For now, with good gas reserves, Europe appears to be getting through this winter relatively unscathed. But the big question is whether that will also work next winter.
It will not be possible to fill stocks for the cold months of 2023 and 2024 with large quantities of Russian gas. What are the other options? And at what cost? We include that in this article.
What is stock now?
Let's look first at the current gas reserves in the Netherlands, stored underground at Bergermeer, Norg and Grijpskerk, among others. Last October, it reached its highest fill level, at more than 93 percent.
Then the colder months set in, so we had to use the gas from that storage again. Underground fields in the Netherlands are still 77% full: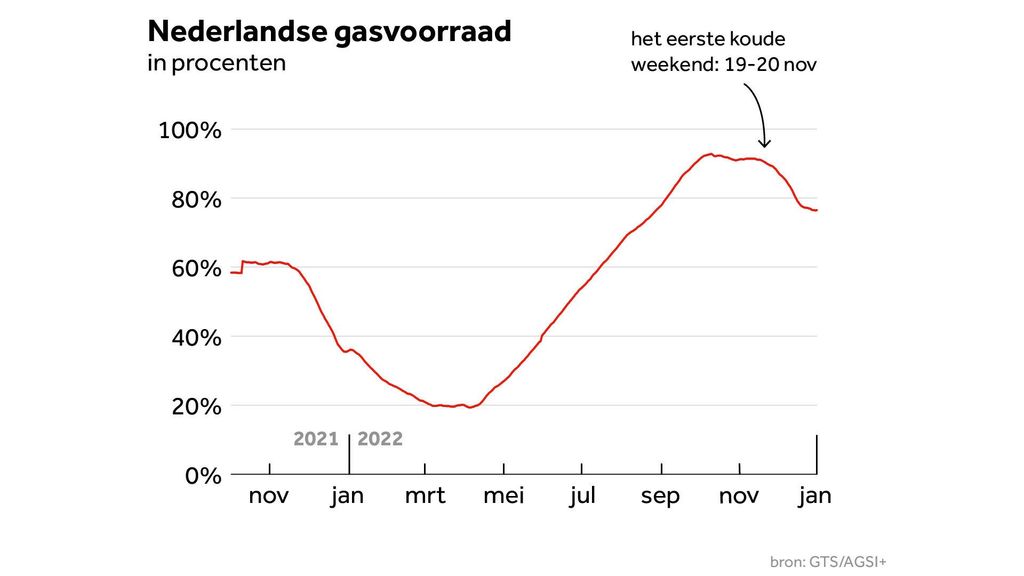 Other European countries also have this type of gas storage; Their average mobilization level was 88 percent in mid-December. This is also important for the Netherlands, because the agreement stipulates that countries help each other if there is a risk of shortages.
The International Energy Agency (IEA) estimates that by the end of the heating season, gas supplies will be somewhere between 5 and 35 percent full. The warmer you stay in the coming months, the greater your gas reserves will still be and the less you will need to add for next winter.
What is the gas with which we replenish this stock?
In recent years, we have received gas in Europe from three main sources: production within the European Union (eg Groningen), pipelines (mainly Russia and Norway) and ships that brought liquefied gas.
About 30 to 40 percent of European gas came from Russia in 2021. This has become much less in the past year, although some Russian gas still flows through pipelines: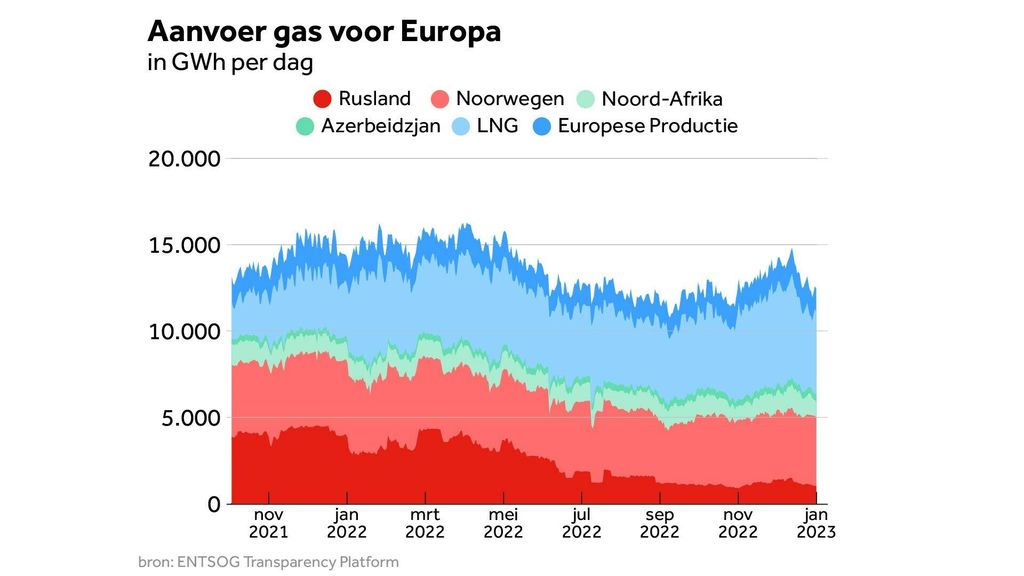 The maneuvering space to compensate for the lack of Russian gas is small. European production could not be increased much more; For example, gas extraction in Groningen has been stopped in recent years.
Azerbaijan and Algeria have begun to provide more gas, but not enough to make up for the shortfall. Norway has also increased production, but it cannot increase it any further.
Thus, in the coming year, Europe will rely heavily on the third source: liquefied gas (LNG). This is gas that has been cooled to -162 degrees Celsius, which makes it a liquid and can be transported across the ocean in large tankers. After it arrives, it is converted into "normal" natural gas.
Is there enough liquefied gas?
The good news is that many LNG-producing countries have increased their exports. So there are many available in the global market.
The United States in particular is supplying more LNG to Europe. Russia also still supplies liquefied gas: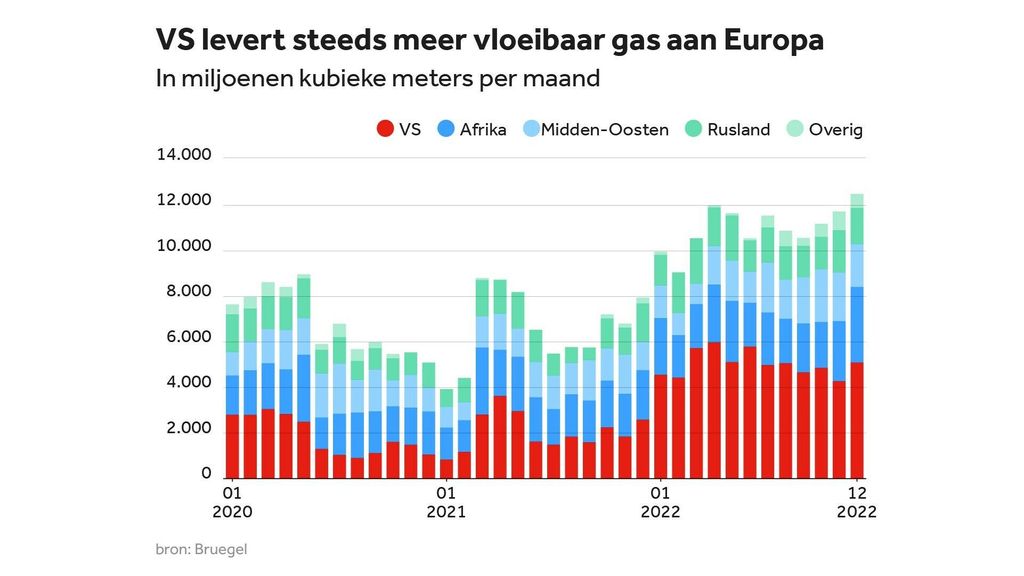 But there is also an uncertain factor: China. This country has been on lockdown for much of 2022, and as a result LNG demand is down about 20 percent compared to previous years. So European countries can easily buy liquefied gas.
Once the Chinese economy is up and running again, China will take the vast majority of the additional LNG in the global market again. The country has already largely defined this by decades. Other Asian countries also rely heavily on LPG to heat homes.
What will we pay?
Only at the end of March, when the global heating season ends, do we know the price at which we have to replenish our stocks. "This is when it gets exciting, because we have a lot of competition at that time," says energy expert Lucia van Jeunesse of The Hague Center for Strategic Studies.
"This could drive up the price. The question is: Who will pay the highest price for the remaining LNG?"
Do we bring liquefied gas?
The liquefied gas enters through large ships, which must dock at special stations. All over Europe, stations are now being built at lightning speed, where this gas can be diverted.
By no means all countries had such a station, so now several plans have been drawn up: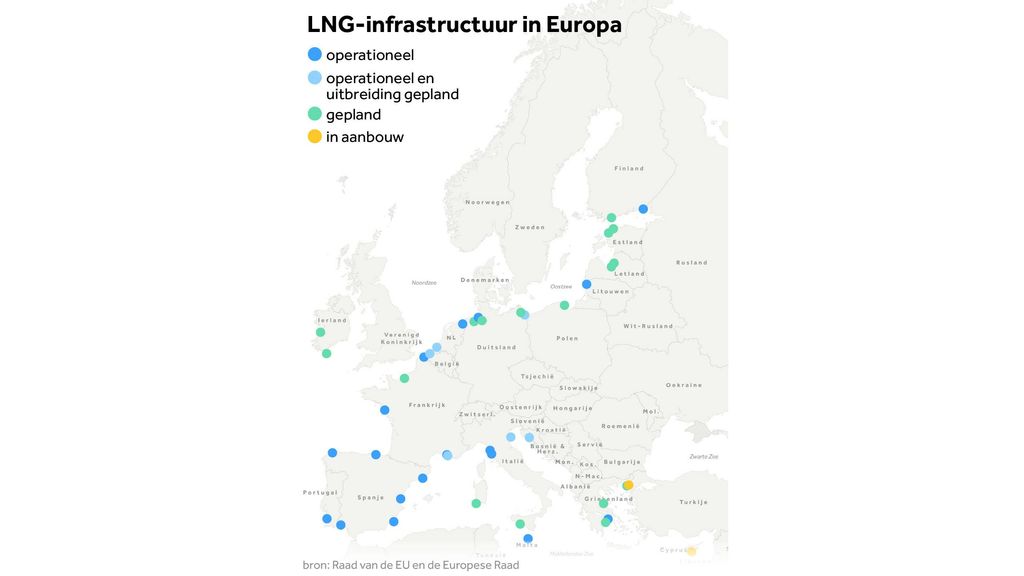 Prior to the Russian invasion of Ukraine, for example, Germany did not have its own terminal and was therefore unable to pump gas from the ship itself. The country is now building it with lightning speed. This week, for example, the first tanker arrived at the floating LNG terminal in Wilhelmshaven.
The Netherlands has been able to receive LNG ships for some time in the port of Rotterdam. But we also want to be able to import more liquid gas. This is why the terminals in Rotterdam and Eimshafen are being expanded and there are plans for one in Terneuzen.
What if it is not possible to buy enough gas?
The International Energy Agency predicts that if Russian pipeline gas stops completely and China imports LNG again as in 2021, we will have a shortfall of 27-30 billion cubic meters in Europe this summer to fill our stocks.
That's nearly half of the gas needed to bring the European fill level to 95 percent. According to the International Energy Agency, there is no other option but to save more gas than now.
By 2022, European countries have succeeded in using 20% ​​less gas than in the years before Russia's invasion of Ukraine. This is due in part to the warm weather: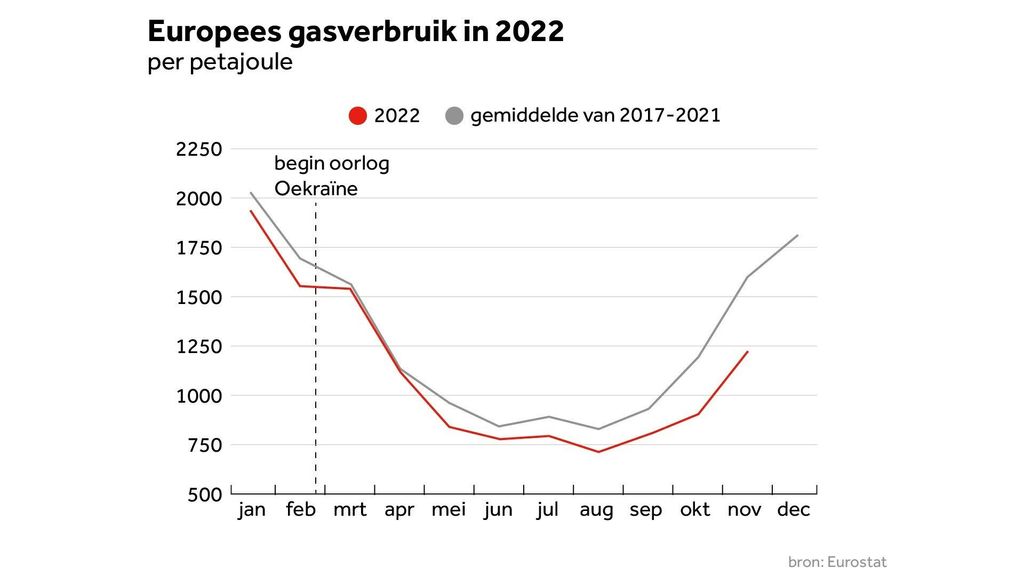 In order to save, energy sources that can take over gas consumption this year are also being considered. For example, the International Energy Agency hopes that France will be able to produce more nuclear energy again and that hydroelectric power plants in southern Europe will generate more as well. is also being considered coal-fired power stations.
According to the International Energy Agency, in addition to all of the above measures, Europe cannot avoid further reducing gas consumption and investing in energy saving measures and renewable energy sources. The agency also recommends large-scale installation of heat pumps. An estimated 100 billion is needed for all measures.

"Lifelong zombie fanatic. Hardcore web practitioner. Thinker. Music expert. Unapologetic pop culture scholar."