Ukrainian President Zelensky received the Charlemagne Prize in Aachen, Germany. The prize is awarded each year to a person or organization committed to European unification.
This year, Zelensky and the Ukrainian people received the award, "in recognition of their courageous struggle for freedom, self-determination, democracy and defense of our European values." It is the first time that a president and his people have won the award.
European Union
The organization behind the Charlemagne Prize described the award as an encouragement to start accession negotiations with the European Union quickly. Ukraine is not yet a member of the European Union, but it would like to join the European partnership. A few days after the Russian invasion, Ukraine officially applied for membership in the European Union. In June, Ukraine was granted candidate country status.
Ukraine will not be able to join the European Union at the moment. There shall be no dispute over the territory of the acceding State. However, the various heads of government who spoke with Zelensky stressed the relationship with Ukraine and the country's future in the European Union. They also thanked the president for the daily struggle of Ukraine.
Zelensky was awarded the matching medal: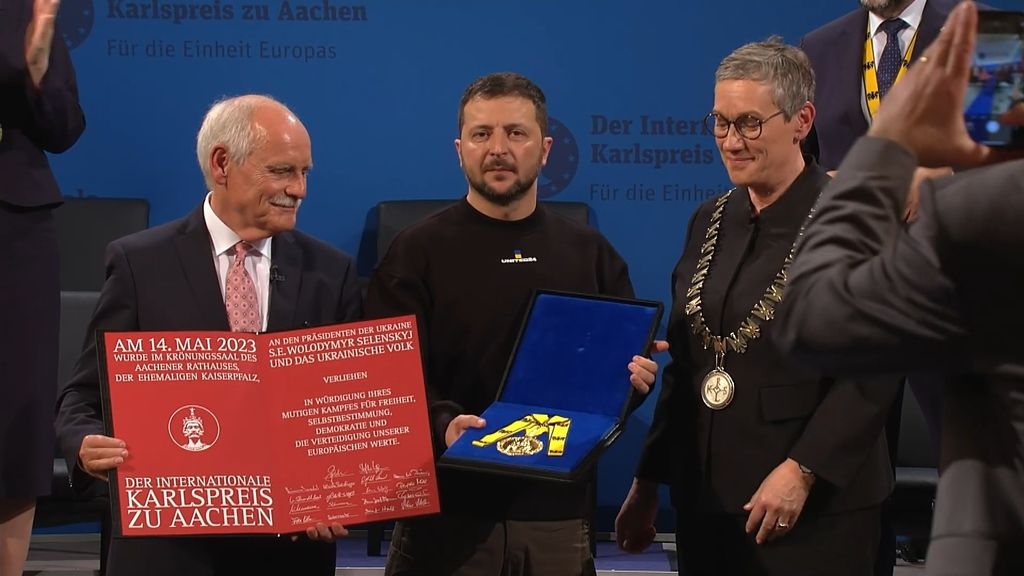 Zelensky was awarded the Charlemagne Prize
Zelensky also stressed the importance of cooperation and intensively thanked the European Union for its support over the past year. He thanked "strong Germany", but also said that the Ukrainians would always make Europe stronger. The European Union is not complete without Ukraine. There was a warning in his words. Zelensky said that war is not far away: "The fighting continues. Not far from here. This is also the fate of the Europeans."
Security and protesters
Zelensky met with President Steinmeier and Chancellor Schulz earlier today in Berlin. Together with Schulz, Zelensky traveled to Aachen.
Security in the city has been increased due to the arrival of the Ukrainian President. Heavily armed officers roam the streets. Prior to the ceremony, snipers could be seen on the rooftops surrounding the town hall, where the award was presented.
In addition to the 700 guests, hundreds of people tried to get a seat in the square in front of the town hall, where the ceremony could be followed on screens. Some lined up for hours to get past the strict controls.
Outside the city centre, several groups of protesters gathered in Aachen. Some of them wanted to show support for Ukraine, while others wanted to express a dissenting opinion. About a hundred people demonstrated for peace and demanded the departure of Germany. Elsewhere, more than a thousand people gathered to show their solidarity with Ukraine and Zelensky.

"Infuriatingly humble social media buff. Twitter advocate. Writer. Internet nerd."