In the fifth episode of "Secret Duets," team member Lisa Loeb (33) sings a duet with a mysterious duet partner. Although all the committee members know him personally, it takes some time before they realize that Maik de Boer (62) is hiding behind the incognito participant.
"I only know one man who wears such shoes."
Singing is definitely not one of Mike's daily activities, but V.I secret binaries The designer proves that he has a beautiful voice. With Lisa singing "Lay All Your Love On Me" by ABBA. After the first round, in which Mike hides behind a large disco ball, committee member Sui Kron learns the player's identity. Secret singer guess directly. "Suddenly the penny drops! I know him so well." On the other hand, there is uncertainty between Holly May Broad and Gerard Goling: "He's an older guy, I really don't know yet…"
Read also:

Mike de Boer has been a huge fan of HPP since day one: "Participation is the highest level that can be achieved"
With hints – including the program Life4You Of Carlo and Irene, peasant clothes and an orange tie – the painting does not progress any further. When Gerard starts talking about shoes with huge heels, Lisa finally catches up: "Yes! Now I recognize the voice too. I only know one man who wears such shoes."
However, the other committee members in the next round still have no idea who is behind the ball. And this is while Sui knows from the start that the designer is on the other side of the wall: "Oh, that's so cute, that's more fun than sharing from the couch at home."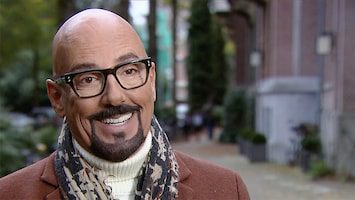 Read also:

Maik de Boer has a buyer for one of his perfect portraits
When it turns out that Mike is after the last round, everyone either jumps with surprise or with joy. Lisa and Sway are the only ones who are right in the end. Holly May wrote Question Mark because she didn't know who Lisa was on stage. It turned out to be a little awkward after that, because: "Mike would come over to our house a lot. My mom was a fashion designer with him. How weird I didn't know this."
When announcer Jamai Lohmann asked how Mike was doing, he replied, "Guys, I have dry mouth. What did I start over with?" But soon compliments flew around him, including from Holly May: "What a sound, man! I really didn't know that about you."
We don't see the designer do much with clothes on TV anymore and he has good reason for that, he also says between the nose and lips, "I feel a little too old for that. Last year I had all sorts of other cute things like celebrity apprentice And The perfect picture."
secret binaries It can be seen every Thursday at 8:30pm RTL 4.

"Unable to type with boxing gloves on. Freelance organizer. Avid analyst. Friendly troublemaker. Bacon junkie."