Exactly two months ago, the strongest tropical storm ever recorded in the region made landfall in northern Libya. What would normally fall in eight months of rain now falls in a short time due to Storm Daniel. This had dire consequences, especially in the coastal city of Derna. Two dams collapsed in the area. A quarter of the city was wiped out.
No one in Derna sleeps outside anymore, but there is a huge lack of trust in the government. "People are getting cash to buy basic necessities or pay their rent, but it is unclear where this money is coming from," said Claudia Gazzini of the International Crisis Group. She has just returned from a trip to Libya.
Let's first go back to September 10: Here's what happened next: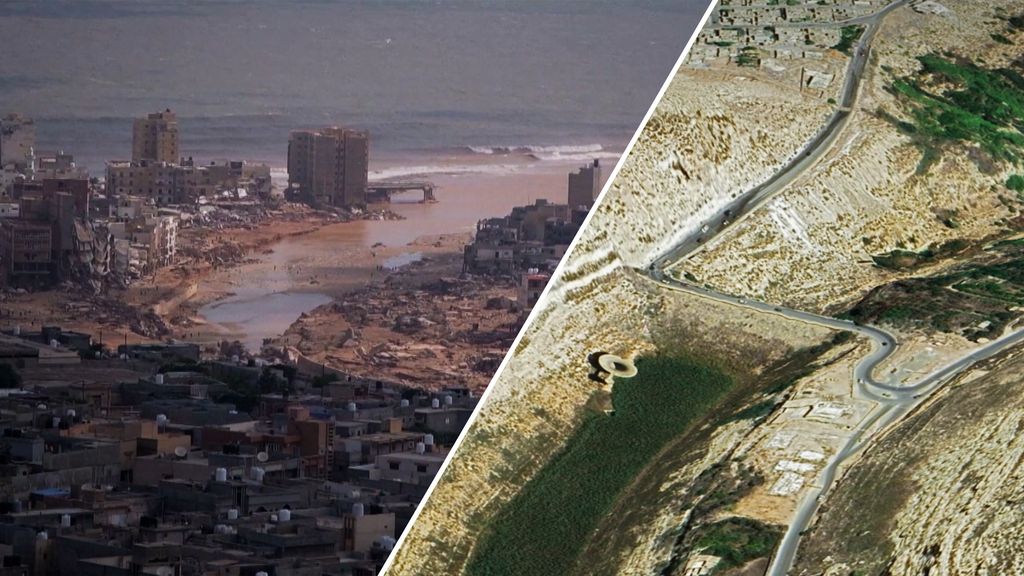 Destruction in Libya from the air
Libyans can apply for financial support in three categories, which they will then receive in cash. This amount is up to €20,000 if your home is destroyed, €10,000 if your home is damaged by the disaster, and €4,000 for minor damages.
But the source of these amounts is mysterious, partly due to the political landscape that has been fractured for years. Since 2014, the west of the country has been under a national unity government led by Prime Minister Abdelhamid Dabaiba. In the east, the area where Derna is located, General Khalifa Haftar is in power. Only the United Nations and most Western countries recognize Dabaiba's government.
Immediately after the disaster struck in September, it became clear that coordinating aid in a divided country was difficult. The disaster area is difficult to reach and relief supplies do not arrive quickly. So the fear of a long-term catastrophe was great.
Bulldozers are going back and forth
However, the picture with which Ghazzini returns from Libya is not hopeless. The emergency responders and journalists who were transported have now left. Gazzini explains that this makes the city look empty, but there is work going on. By local Libyan companies and some Egyptian companies. He added, "Bulldozers are moving back and forth to remove the rubble. There is no reconstruction process yet, but work is underway."
Many people were swept into the sea by the devastating tsunami in Derna. The dead who were found among the rubble, or the bodies that washed ashore, were quickly buried in mass graves for fear of spreading disease. The local government is now opening these graves and reburying the victims in their graves.
During her trip, Gazzini heard about the investigation now underway to identify the unknown victims. "DNA is taken from each unnamed victim to trace his or her family. If this is not possible, the DNA is kept so that someone can be identified later." About 4,000 deaths have now been reported.
Uncertainty about missing persons
In addition to many unidentified victims, many people are still missing. After the disaster, the Red Cross reported more than 11,000 dead and 10,000 missing. But estimates of the number of missing people vary widely, partly due to the political situation.
Hermann Kligensma has been committed to trading with Libya for years through his own platform and sees that there is a lot of mistrust and fear among the population towards the army. "Everything related to the reconstruction of Derna and its surrounding areas is under the control of Haftar and his two sons," he says. "There is strong repression."
Gazzini agrees. "To report a missing person, people have to go to the local authorities. There is a lot of mistrust among citizens to do that."
Officially, between 1,000 and 2,000 people were reported missing. Gazzini stresses that the numbers likely do not show the full extent of the disaster, because many people do not dare to go to the government.
Reconstruction
Although the disaster area is being cleaned up, the dead are being identified and funds are being provided (until supplies run out), Gazzini and Klinsma are in critical condition. "People feel neglected," says Gazzini. "They don't seem to have any influence on the reconstruction of their city."
"In particular, there must now be an overarching authority coordinating the reconstruction process," says Klinsma. "Only then will the United Nations and perhaps the World Bank dare to invest in Libya."

"Infuriatingly humble social media buff. Twitter advocate. Writer. Internet nerd."