In Brazil, the police have largely evacuated a camp of Bolsonaro supporters. Hundreds of people have camped out in front of the Brazilian army's headquarters in Brasilia in recent months. Local media reported that hundreds of agents were deployed in the operation.
Brazilian media reported that most of the people have now been arrested and taken to the police station by bus. news website G1 Reports 1,200 people have been arrested. The bureau is investigating who played a role in the storming of government buildings yesterday.
Police said the camp evacuation was peaceful. The camp was evacuated by order of the Supreme Court. Other camps in military compounds must also be evacuated.
broken into
Some of the former president's supporters have repeatedly asked the military to intervene: they believe Lula's election victory is unfair, and there is no evidence for that.
Yesterday, thousands of Bolsonaro supporters stormed the Supreme Court, the Parliament and the Presidential Palace in Brasília. Police managed to clear the premises after three hours and used tear gas, among other things.
There is uncertainty about the number of arrests yesterday: according to the Minister of Justice, 200 protesters were arrested, but the governor of Brasília reports that 400 people have been arrested. And did not count the arrests around the camp at the army headquarters today.
The ruler is inactive
The Supreme Court suspended the governor for 90 days. Earlier, the governor himself dismissed the capital's police chief. The court found that the governor had failed. The federal government took over security tasks from the regional authorities. Buildings that were broken into yesterday are now heavily insured.
President Lula's supporters wonder how unprepared the local police were and was apparently caught off guard by yesterday's protests. There has been talk of protests on social media for days. Lula has promised to punish all those responsible.
The stormed buildings are the three in the Three Forces Square: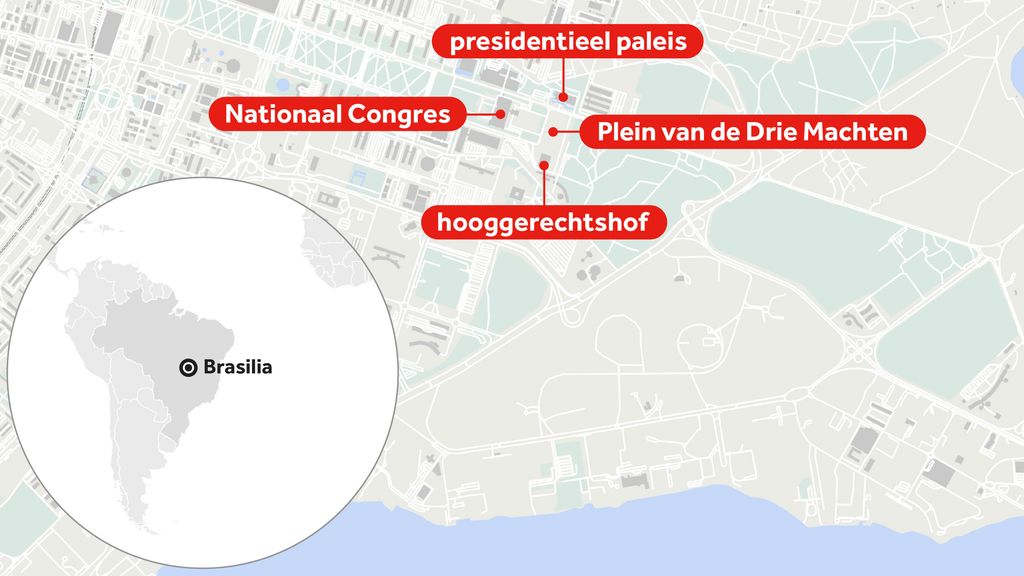 Bolsonaro himself resides in the United States. He went to Florida at the end of December, shortly before his successor Lula was sworn in as president. Bolsonaro has never congratulated his successor or acknowledged the election results. He wrote on Twitter that a "line" had been crossed with government buildings being stormed.
Bolsonaro visa questions
Many politicians from the US Democratic Party believe that Bolsonaro should be expelled from the United States. Congressman Joaquín Castro told CNN, "The United States should not be a haven for this tyrannical man who fueled domestic terrorism in Brazil. He should be brought back to Brazil."
President Biden has previously described the break-in as "outrageous".
Most likely, Bolsonaro holds the so-called A1 visa in the United States, which is intended for diplomats. Bolsonaro was still head of state when he traveled to the US, so there may not be an expiration period on his visa. The US State Department will not comment on this matter to international news agencies.

"Infuriatingly humble social media buff. Twitter advocate. Writer. Internet nerd."