Jan Kleingenhuis

news hour reporter

Renee van Hest

Nieuwsuur Editor
Jan Kleingenhuis

news hour reporter

Renee van Hest

Nieuwsuur Editor
The demand for electricity in the Netherlands has been increasing in recent months. Companies in particular demand additional power from their network operator on a large scale. They sound the alarm: the power grid is already overcrowded in many places. Without drastic measures, companies will sometimes have to wait years before they can get more electricity.
Since the outbreak of war in Ukraine, grid operators have been inundated with requests for more electricity, assures the three largest regional grid operators, Liander, Enexis and Stedin. news hour.
Four times peak power in Amsterdam
For example, grid operator Liander sees companies jointly wanting to buy 50 percent more electricity in three to four years. "These are really huge numbers," says board member Dan Schott of Liander. Then you're talking about four times the peak capacity of the city of Amsterdam.
Rising gas prices are causing companies to significantly speed up their electricity plans, according to network operator Stedin. In order to switch from fossil fuels to electricity, companies have submitted plans in recent months that would require an additional 1.5 times the energy consumption in The Hague, a Steden spokesperson said.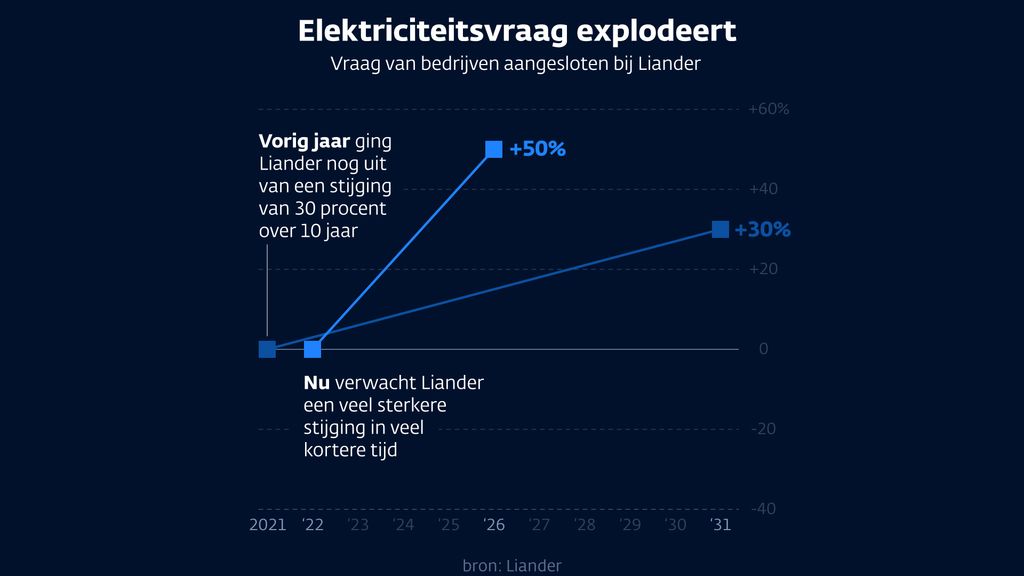 Network operators, researchers and experts argue that the focus on efficiency and low costs by the supervisory authority of the Netherlands Authority for Consumers and Markets (ACM) means that very little has been invested in upgrading and expanding the network.
This is despite numerous warnings that both the supply of sustainably generated energy and the demand for electricity will rise sharply. As a result, there are already at least 6,700 companies and organizations on the call waiting list.
The additional demand for electricity that comes on top of that puts grid operators in front of an impossible task. When asked if Liander could provide the extra power needed, Schut was clear: "No, we can't provide that."
Steden Board Member David Peters is also a briefing on this. "The power grid is not designed for this purpose. We are working hard to expand and strengthen our grid, but more is needed to meet the growing demand."
consumption spread
Both Liander and Stedin are calling on businesses and politicians to take action quickly. Companies in particular should better spread their consumption throughout the day. Liander is considering contracts under which companies can only receive electricity during peak hours. In addition, companies and consumers can be motivated by price incentives to charge, for example, electronic boilers and electric transport, especially at night.
Without measures, Schott says, the power grid will inevitably come to a halt. "If we continue to do what we've been doing over the past 10 years, these networks will become increasingly full and there will be increasingly larger queues for companies to become more sustainable and have lower economic growth."
Employers' organizations VNO-NCW and MKB-Nederland say companies are happy to contribute to power grid relief where possible. "However, this does not absolve the Netherlands of its duty to accelerate its preparations for the future," a ministry spokesman said. Employers want problems on the network to be a "national priority," and the licensing procedures for tightening to be "much shorter."
"The stress on the power grid can be compared to rush hour," Peters says. "More asphalt alone will not solve the traffic congestion problem. We also have to approach the road network differently: 'driving' slower, not driving all at the same times and not adding or removing at the same time. Then there will be room on the road for everyone for free." .
In North Brabant and Limburg, work is already underway to spread electricity demand. Network operator Enexis has made deals on this with large companies, after the network filled up completely this summer. Enexis says this provided a temporary solution, but is now again seeing "very large orders" for additional electricity.
tsunami requests
"These customers want to get rid of natural gas, and sometimes they need up to seven times the capacity on the power grid," says Tim Van Hamm of Enexis. Demands per customer increase to enough capacity to supply 20,000 households with electricity. Earlier, Enexis talked about a "tsunami" of new applications.
Schut van Liander says better use of the network is only a short-term solution for now. In addition, he adds, "we will have to expand the networks structurally." Liander says it will have to build more than thirty large power distribution stations to meet the currently estimated demand. For this, the permitting procedure will have to be significantly shortened, and technically skilled workers from abroad will be required.

"Lifelong zombie fanatic. Hardcore web practitioner. Thinker. Music expert. Unapologetic pop culture scholar."