An essential aspect of the forex market is that it is a zero-sum game. Whatever one currency gains, the other loses. It also implies that relative attractiveness determines price. Both countries may be worse off, but the lesser country will appreciate its currency.
In this beauty pageant, the Eurozone has been on top lately, while the US is losing its luster. As a result, the Euro exchange rate rose to USD 1.09 this week, the highest level since April last year. It is slowly returning to the $1.14 mark, which was the value of the single currency before the outbreak of war in Ukraine in February last year.
The decline that followed had logical explanations. In troubled times, the Green back Even more of a safe haven for fearful investors than the euro. In addition, to combat high inflation, the US central bank raised policy rates faster and initially more sharply than in the monetary union. By the end of September, the single currency had fallen to $0.95, its lowest level in two decades. This made exports from the euro zone cheaper, but also meant higher fuel prices, as these were paid in dollars on international markets.
From September, the cards have been economically modified. In the Eurozone, this mainly resulted in headwinds. For example, there was a mild winter, which resulted in lower gas reserves than expected. A purchasing managers' index for the eurozone rose more than 50 points in January, pointing to a pick-up in activity. Also, the recovery is broad-based as it occurs in both the industrial and service sectors.
Stagnation

This means that a recession, defined as two consecutive quarterly contractions, has not yet been avoided. However, that is partly a semantic debate. The contraction was already very low in the fourth quarter, and this quarter will also go towards zero. Stagnation seems like a great catchphrase. Luc Aben, chief economist at Van Lanschot, says expectations for economic growth are moderate. For example, European consumers remained relatively gloomy in December, albeit slightly pessimistic about the economic outlook and their own financial situation.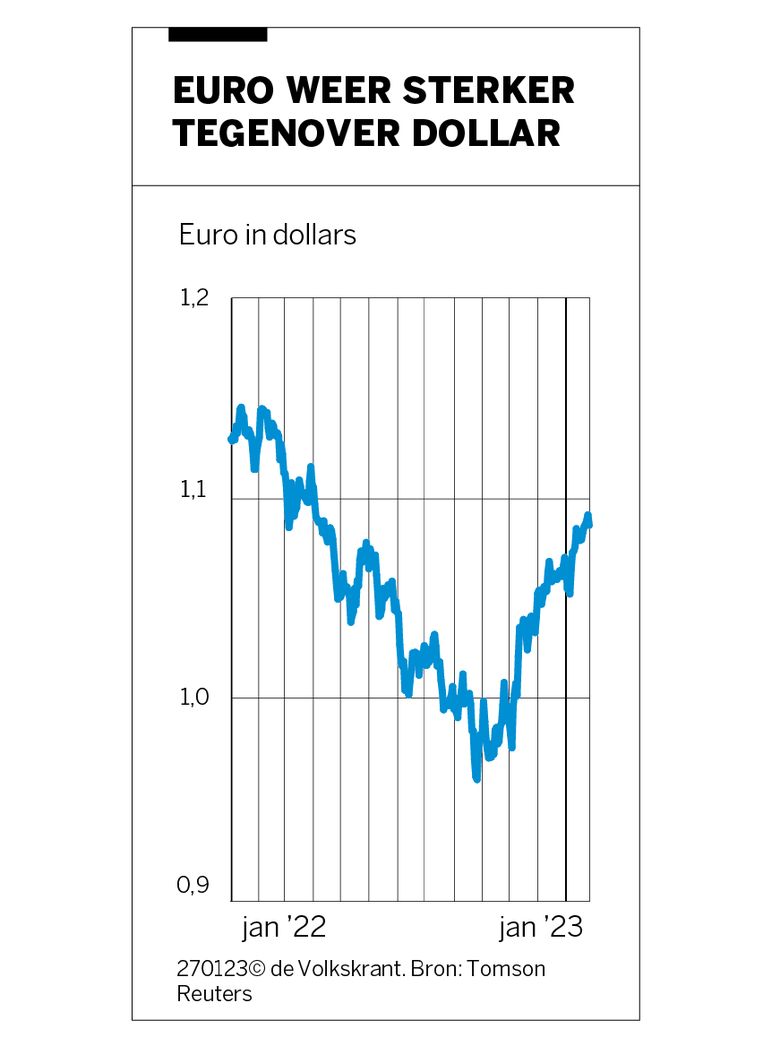 The European Central Bank's (ECB) continuing to slow the economy by spending more on borrowing and investing doesn't help either. The market expects the interest rate to go to 2 to 2.5 percent next week, and the rate to rise further to 3 percent in March. This will help in curbing currency devaluation.
Inflation in Europe stood at 9.2 percent in December. Although inflation fell for the second month in a row, it is still above the 2 percent target. ECB President Christine Lagarde gave additional reason for vigilance during a visit to Davos. China's decision to abandon its ultra-strict Covid policies and reopen the economy could lead to more competition for energy, according to Lagarde, leading to higher inflation in Europe.
Dark numbers

So while there are no particularly favorable prospects in the eurozone, the common currency is gaining traction against the US. Unlike in Europe, the most recent economic data came in below expectations, raising fears of a recession.
After last week's already disappointing figures for retail sales and industrial production, the Conference Board this week added to a gloomy number. The research institute publishes a monthly journal Index of Indicators – including outlooks for industrials, housing, employment and financial markets – which fell for the tenth straight month in December.
There was one more bright spot. On Thursday, the US economy grew by 2.9 percent in the fourth quarter of 2022 from a year earlier. That's slightly better than expected, but a weakness compared to 3.2 percent in the third quarter.
Notably, US stock markets have rallied over the past two weeks. As U.S. inflation began to ease in October, investors are less concerned about further interest rate hikes, which are now in the 4.25 to 4.5 percent range. The market expects the Federal Reserve to raise interest rates no more than 5 percent, and in smaller steps than previous rate hikes.
Compare with last weekend's class note report. The president of De Nederlandsche Bank later emphasized the point of slowing the pace of ECB interest rate hikes. 'further away'. Financial markets currently expect the key interest rate to remain at 3.25 percent.

"Award-winning beer geek. Extreme coffeeaholic. Introvert. Avid travel specialist. Hipster-friendly communicator."