Speakermaker Edifier has released a new set of speakers: Repeater S1000W. The name is a bit misleading: at 60 watts per speaker, the range doesn't come close to "1000 watts". They support Bluetooth, WiFi, and well-known streaming services.

Edifier S1000W loudspeaker set.
You can play music with Apple Airplay, Amazon Alexa, TIDAL Connect, and Spotify Connect. Speakers can be added to your WiFi network via the Edifier Home app.
Both speakers have a 5.5-inch (35 watts) driver for bass and midrange, and a 25-watt 1-inch driver for higher frequencies, which together have a frequency response of 45 Hz to 40 kHz.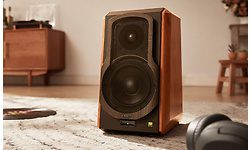 Active speaker, from an angle you can't see the cables working.
Edifier calls the speakers "Wireless," but that's also a bit misleading. The product pictures don't show a wire, but it really needs a power cable and connection cable between the two speakers.
The kit also contains analog (tulip), optical and coaxial inputs. Remote control, RCA cable, RCA to 3.5mm cable and optical cable are included.
The Edifier S1000W range of loudspeakers don't seem to be sold anywhere in the Netherlands, but in the US It now stands for $449.99 (just under 460 euros) for sale.
source:
maker
« Previous Post Last Next »

"Lifelong zombie fanatic. Hardcore web practitioner. Thinker. Music expert. Unapologetic pop culture scholar."