Almost two years later, the Netherlands has another US ambassador. Shefali Razdan Duggal mainly wants to keep an eye on minorities. She will not ask the cabinet to reopen the Groningen gas pipeline.
Razdan Duggal (50) presented his credentials to King Willem-Alexander this morning in what he calls 'the honor of my life'. Ruston Dugal was already nominated by US President Joe Biden for the post of ambassador to the Netherlands in March; He raised a large fund for his presidential campaign. He previously did it for Hillary Clinton and Barack Obama.
When the White House contacted him to discuss the possibility of an ambassadorship, Rustan Dugal says the Netherlands was his first choice. "We have more than 240 years of diplomatic relations, and the United States and the Netherlands share many important values." Either way, the Dutch weather must appeal to her. "I love two things: rain and chocolate."
Groningen
When dealing with the Dutch press, Rustan Dugal remained silent on substantial cases of US non-recognition of US liquefied gas exports, such as the International Court of Justice in The Hague. Dutch ASML's high-tech chip machine How does he view the Dutch decision to appoint government representatives to China and as a human rights lawyer? to Qatar to send "I don't know anything about that."
He insists he will not pressure the Dutch government to reopen the Groningen gas pipeline. "It's an internal Dutch thing. I don't want to start a conversation about it." At his U.S. Senate hearing, Rustan Dugal referred to "in an emergency."Groningen reopened' To speak.
Talk about Razdan Duggal instead Her appearance. "I am the first American person of color to be ambassador to the Kingdom of the Netherlands." He was born in the Indian region of Kashmir and moved to Ohio in the American Midwest as a toddler. ,,Born in India, Made in America'' she sums up.
He was raised in Ohio by a mother who juggled two jobs. His proud mother also traveled with him to the Netherlands for the first few weeks. Rustan Dugal is married and has a son and a daughter. During his ambassadorship, his family split their time between San Francisco and The Hague.
The American Dream
As an American immigrant, Rustan Dugal wants to be "the face of American diversity." Growing up as a woman from a minority group with limited financial resources is a 'constant challenge', says Rustan Dugal. "I was constantly underestimated. I was told things were impossible. But with hard work, positivity and grace, a lot is possible. It truly is the American dream.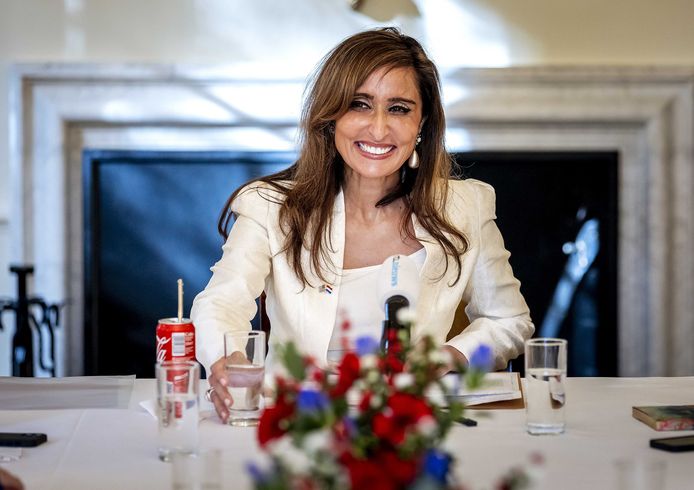 Loans and scholarships allowed Rastan Dughal to study. He later worked for the human rights organization Human Rights Watch and became involved in the Democratic Party. President Obama appointed the Board of Trustees to the United States Holocaust Memorial Museum in Washington, DC in 2014. The position also indicates a desire to 'dedicate oneself personally to promoting the memory of the Holocaust' in the Netherlands.
The face of diversity
Her background also means she wants to keep an eye on diversity in the Netherlands. Like it His predecessor was Pete Hoekstra She wants to visit all twelve provinces. She mainly likes to talk to people who wouldn't normally talk to a messenger. "I know what it's like to not see. I've experienced that feeling myself for years."
In the week he was already in the Netherlands, he also visited the Transvaal, a multicultural neighborhood in The Hague, in addition to Mauritius. Pete Hoekstra, his predecessor ambassador appointed by then-President Trump, called such Dutch entourages 'just before his ambassadorship started'.No go zones'.
Ruston Dugal contacted Hoekstra when he learned he would be ambassador to the Netherlands and three other front-runners appointed by Democratic presidents. Everyone, including Hoekstra, insisted Razdan Duggal, answered his phone call or responded to his email. "When I arrived in the Netherlands, I received a congratulatory message from all four of them."
Watch all videos on politics here:
Is Unlimited Access to Showbytes Free? What can!
Log in or create an account and never miss a thing from the stars.


"Award-winning beer geek. Extreme coffeeaholic. Introvert. Avid travel specialist. Hipster-friendly communicator."