Nice play to work
written by Lars Cornelis, op
How proud we are of our hobby these days! First, critics, fans, and newcomers alike are stumbling upon one another to praise the TV series based on The Last of Us. Then punches Super Mario Bros. Shoot all recordings together as if they were defenseless Goombas. But the signal that the games are really widely accepted came from Sliedrecht this week.
To be honest, I also had to look for Sliedrecht on the map. The village has a population of about 26,000 and is more than 180 kilometers from my hometown. However, last Monday I watched with great interest a meeting of the village council, at which various scenarios for the yet-to-be-built town of Sledrecht-Nord were discussed. No expensive design agency was hired to shoot those scenarios, but everything was simply recreated in Cities: Skylines.
It all started as a hobby. Sylvain Hamar de la Brethonière, advisor for sustainability policies in the municipality of Sliedrecht, decided to recreate his birthplace in the cities. Not special in itself – I myself have sometimes tried to recreate my hometown or neighborhood. Probably every City player has tried it. Silvain, known on YouTube as Silvariate, a little better at that. Perfectly recreated Sliedrecht to scale and show to colleagues. Then came the idea that cities might also help conceptualize future projects.
It took a few tweaks to make this happen, like Cities: Skylines isn't quite perfect when it comes to default size, and a lot of the architecture is very American. Fortunately, Silvain has found enough solutions for this, so that the result really resembles a village in the south of the Netherlands. Alderman ToneSpeak even thought for a moment that he was watching live cam footage.
Accurate representations of different scenarios were presented during the board meeting. A car-free version of the neighborhood was shown, and the differences between tall and low-rise buildings were manipulated. The exact number of homes to be added and whether the scenario still meets the requirements was also taken into consideration. It is also briefly shown how the green strip can be filled in in different ways, for example on a soccer field. Then, the city council was allowed to vote on what it thought was important, after which Sylvain worked out all the results of the live votes in the game into a kind of definitive version of Sliedrecht-Noord.
The result was that the entire presentation was like a sweet cake with City Council somewhat mixed up. The older and younger council members looked at the live model without any criticism, and thus moved on to the content without batting an eyelid.
For example, a counselor expressed concern about a riding school he would never see again. After all, it was agreed to keep the riding school, right? And what does that mean for agreements regarding other riding schools in the region? A few tennis courts were laid out quickly at the direction of the councilors and one of them also asked if you could see exactly how many trees were in the neighborhood. These kinds of questions illustrated the seriousness of the demonstration.
They weren't looking at a game, but they were looking at a "model" in the Cities: Skylines "software". If it were up to Alderman Spek, this method would be used more often anyway for project development. Who knows, you might end up living in a neighborhood created with the help of Cities: Skylines.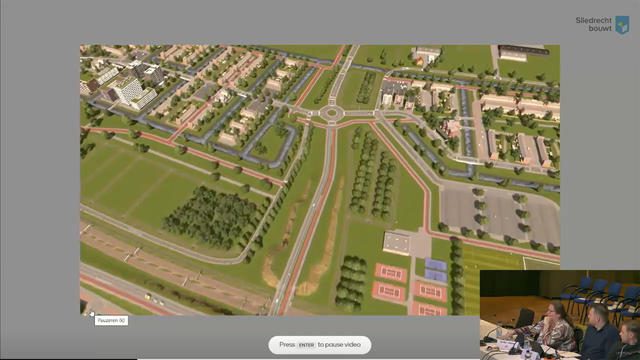 The euphoria surrounding The Last of Us and Super Mario Bros. The movie is understandable, but it's like Michel So aptly described, which can also be traced back to the inferiority complex of our industry. As if we "have to" compete against big Hollywood before the matches count seriously. But with these cinematic adaptations, the stories and cultural legacy behind the games are taken seriously. Then Super Mario Bros. The movie raises about as much money in a week as all of Sliedrecht's residents in a whole year, yet the municipality of Sliedrecht shows how it takes gaming seriously.

"Professional web ninja. Certified gamer. Avid zombie geek. Hipster-friendly baconaholic."