This happened last nightUS President Joe Biden said last night that temporary grain silos are being built along the border with Ukraine, including in Poland. Silos are needed to export more grain and tackle the growing global food crisis.

Sunny Shlfout


Last updated:
09:09


"I am working closely with our European partners to get 20 million tons of grain on the market in Ukraine to lower food prices," Biden said. Since the Russian invasion and the blockade of Ukrainian ports on the Black Sea, waterborne grain shipments have almost stopped, with more than 20 million tons held in silos. Ukraine has been trying to export grain via road trucks and through smaller ports in Romania and Bulgaria, but is facing capacity problems. The Ministry of Agriculture also indicated that there are not enough silos to store a new crop.
The war drove up prices for grain, cooking oil, fuel, and fertilizer. Russia and Ukraine account for nearly a third of the world's wheat stock. Ukraine is also a major exporter of corn and sunflower oil, and Russia is a major exporter of fertilizers.
Biden said Washington was developing a plan with European allies to transport grain by rail. However, track gauges in Ukraine are different than anywhere else in Europe, so grain has to be transported to different trains at the border. "So we will build silos, temporary silos, on the borders of Ukraine, as well as in Poland."
Marine Mines
Ukraine describes Biden's plan as "just one of the potentially beneficial steps to ensure food security". "But we also need a green corridor for our ports," Ukrainian President Volodymyr Zelensky's chief of staff said in an online post. Ukraine has always said that transit through the Black Sea is the best way to re-export grain again.
However, Biden said that the United States and its allies rule out this path for now. "(The grains) can't get out through the Black Sea, because they fly out of the water." With this, the president referred to the many naval mines that Russia and Ukraine have laid since the beginning of the war. As a result, about 84 foreign ships got stuck in Ukrainian ports, often carrying grain. Ukraine does not intend to clear the mines for fear that the Russians will launch an attack on Odessa by water.
shortage of military equipment



Croissants with rockets in the morning, sirens at night as lullabies disappear, cities with a thousand-year history

Michelo Podoljak, Presidential Adviser
Deputy Defense Minister Hanna Malgar said on TV that Ukraine has so far received only 10 percent of the military equipment it needs to successfully defend itself. The Russians have plenty of men and weapons at their disposal. According to her, the Ukrainian artillery fires from 5,000 to 6,000 shells every day, and Russia is about ten times that.
"No matter how hard Ukraine tries and how professional our army is, this war cannot be won without the help of partners," Malgar said. She called on countries that favor Ukraine to set a clear timetable for the delivery of aid.
Sirens as a lullaby
Presidential advisor Mikhailo Podoljak urged speed on Twitter. In the morning croissants disappear with rockets, at night sirens like lullabies, cities with a thousand-year history disappear. This will be the reality if the pace of arms deliveries continues. Earlier this week, Podoljak showed off via Twitter what's on the military's wish list: including hundreds of new tanks, howitzers, drones, and missile systems.
President Zelensky said in his daily video message last night that his forces in the east of the country (Donbass) "are suffering painful losses." This happens both in the city of Shevyerodonetsk and in the Kharkov region. Zelensky reiterated that Ukraine urgently needs modern missile defenses. He added that there is no justification for Western partners to delay the delivery of these weapons.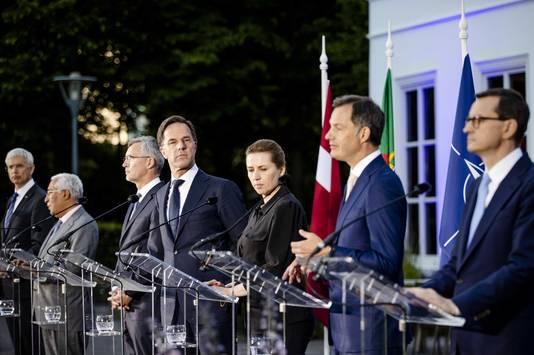 Zelensky's words fall on deaf ears. Prime Minister Mark Rutte and his Danish colleague Mette Frederiksen and NATO President Jens Stoltenberg announced last night in The Hague that NATO countries will supply Ukraine with more heavy weapons. Stoltenberg said the number of heavy weapons destined for Kyiv would increase. No more concrete commitments were made. Dozens of countries are meeting in Brussels today to discuss military assistance to Ukraine.
The meeting was in Cachois in preparation for the NATO summit in Madrid later this month. The seven government leaders present promised to strengthen NATO. According to Stoltenberg, the coalition should have more combat-ready troops and equipment, especially on the eastern side.
The leaders also expressed strong support for the accession of Sweden and Finland. Turkey still opposes membership of both Scandinavian countries. According to Stoltenberg, the concerns of the government in Ankara should be taken seriously. He explained that the Turks' concerns will continue to be considered after the summit in Madrid.
LNG from Israel and Egypt
To reduce dependence on Russian energy, the EU wants to work more closely with Israel. European Commission President Ursula von der Leyen said during a meeting with Israeli Prime Minister Naftali Bennett in Jerusalem that they want to expand cooperation in the field of gas.
Today, the European Commission wants to sign a joint letter of intent for an energy agreement with Israel and Egypt on the supply of liquefied gas to Europe. From Israel, gas is planned to be delivered via a pipeline to Egypt. There, conversion to liquefied gas is planned, which, in turn, can be transferred to the member states of the European Union.
British journalists on the blacklist
Russia has 29 prominent British correspondents and editors from the BBC, Financial Times And the Watchman Blacklisted. They are no longer welcome in Russia, as are twenty prominent figures from defense circles, including the commander of the Royal Air Force (RAF).
The Russian Foreign Ministry said the British journalists on the list were deliberately involved in the unilateral dissemination of false information about Russia and events in Ukraine and the Donbass. Most foreign journalists left Russia after authorities in Moscow imposed prison terms of up to 15 years for spreading allegedly false news about the Russian military.
The United Kingdom has been one of the most vocal and active mainstays in the Kyiv government since the Russian Army's invasion of Ukraine on February 24. For example, for Prime Minister Boris Johnson and many parliamentarians, Moscow has already imposed an entry ban. Added to this are the people Russia believes are involved in making decisions about arms supplies to Ukraine.
Watch our videos about the war in Ukraine here:
Unlimited free access to Showbytes? And that can!
Sign in or create an account and never miss a thing from the stars.


"Infuriatingly humble social media buff. Twitter advocate. Writer. Internet nerd."