Container manufacturer Streacom has two new compact containers announce: DA6 and DA6 XL. These are "open frame" casings, without side panels.
The tanks largely consist of a single continuous stainless steel tube of 19 mm thickness. The mini-itx motherboard can be installed on two smaller tubes in the middle of the chassis. With the universal brackets, everything can be attached to the outer tube: from the 140mm fans to the water cooling radiators, and from 2.5″/3.5″ to the power supply.
It is possible to install an ATX power supply without losing video card space. Video cards can be installed vertically using a PCI mount. For larger GPUs, it is better to choose the DA6 XL, which is slightly higher (cards up to 358 mm in length).
There are cutouts for the I/O modules above and below the chassis. Only a unit with a power button and USB-C connection is provided as standard, but Streacom hopes to release more types of units.
The DA6 and DA6 XL models are expected to be available at the end of July in Chrome and Black colours. The DA6 will cost 139 euros, and the DA6 XL 149 euros.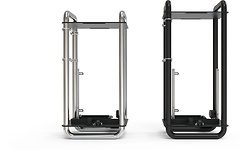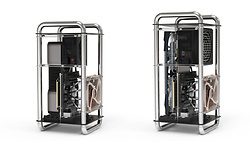 source:
stream com
« Previous Post Last Next »

"Lifelong zombie fanatic. Hardcore web practitioner. Thinker. Music expert. Unapologetic pop culture scholar."