22.02 – Wall Street ends in the minus
Wall Street ultimately failed to keep its head above water. The Fed minutes, which showed among other things that the central bank expects a moderate recession, put pressure on the US stock market. The Dow Jones lost 0.1 percent and the S&P 500 lost 0.4 percent. The Nasdaq fell 0.85 percent.
This is it for today. Tomorrow you can follow all the news from the stock market again here. Until then!
21.24 – Powell and his team expect a slight slowdown
The minutes also show the Federal Reserve expects a mild recession later this year. The news put pressure on Wall Street. Three key symbols are in red.
21.09 – The central bank considered a rate hike at its latest meeting
At the previous rate meeting, central bank accounts showed board members were concerned about the impact of interest rate policy on the banking sector.
Federal Reserve officials met days after the collapse of the Silicon Valley bank and agreed that pressure on the banking sector would slow U.S. economic growth, the minutes said.
According to the minutes, "several" officials said the potential effects of bank stress lowered their assessment of the peak interest rate that would be taken to bring inflation under control.
Also, there is a strong belief to mark time by raising interest rates. Ultimately, it was decided to raise the interest rate by 25 basis points. That decision ultimately came as central bankers knew that inflation was still high and that further rate hikes might be needed to bring it down.
7:52 PM – Wall Street is regaining ground
This afternoon, Wall Street briefly gave up its opening gains, but meanwhile U.S. indexes are trading higher. The Dow Jones gained 0.45 percent and the S&P 500 gained 0.3 percent. On the other hand, the Nasdaq remains stagnant.
Investors are not sure how to deal with inflation. It has declined, but core inflation is still rising.
Nobel laureate Paul Krugman commented on Twitter that inflation is still unblemished, unemployment is not rising. "There are many definitions of core inflation, and you can always find a number that confirms your preconceived notions," he added. He also shared a graph showing that core inflation weakens if housing costs are not taken into account.
18.47 – Eric Joly: "In the EU and the US, interest rates will continue to rise"
"The assumption is that short-term interest rates will initially be raised somewhat in both the US and the Eurozone," Eric Joly, chief economist at ABN Amro, said in a chat with our site.
17.51 ​​- Sentiment returned to stock markets
After initially reacting positively to the inflation report, equity markets are now losing ground.
In Europe, the EurostaxX50 ended closer to home after a sharp spike shortly after the release of US inflation numbers. The Bell20 lost 0.6 percent at the close.

The Belgian star index was also under pressure due to AB InBev's share price loss. The beer giant fell 3.25 percent today.

In the United States, Wall Street dipped briefly into the red, but indices are now turning pale green. The Dow Jones and the S&P 500 each rose 0.2 percent. The Nasdaq continues to stagnate.
4:54 PM – Buffett: "US savings are safe"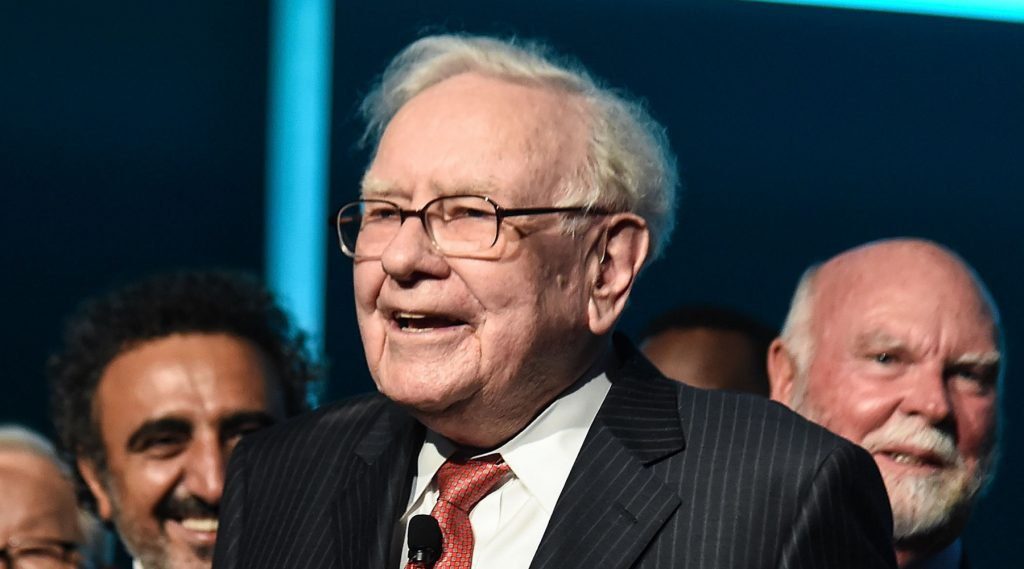 Warren Buffett said in an interview with US News CNBC After the recent turmoil in the industry, Americans don't have to worry about their savings in banks because the government will ensure that no saver loses a penny.
"People shouldn't worry about cash and deposits in a US bank," said the super investor, chairman of investment firm Berkshire Hathaway.
Buffett envisions the U.S. government bailing out depositors in U.S. banks if ever needed, though Congress would have to approve it.
"If more banks fail, shareholders can get ripped off, and rightly so," Buffett says.
16.39 – Learn more about the US inflation rate
15.54 – "US inflation numbers encouraging, but Fed likely to raise rates"
Inflation in the US eased from 6 to 5 percent (year-on-year), but monthly increases in non-food and energy prices were stronger than desired, giving the central bank reason to raise rates again in May. James Knightley, ING's chief economist, first reaction to the US inflation report. "However, high borrowing costs and reduced credit availability are increasing the risk of a hard landing and could quickly dampen inflation."
15.39 – US inflation rate gives Wall Street a modest boost
Investors are cautiously optimistic about the US inflation rate (See message at 2.48 pm) after the opening bell, the Dow Jones is up 0.3 percent. The S&P 500 gained 0.2 percent and the Nasdaq gained 0.15 percent.
14.48 – US inflation continues to decline
US consumer prices rose slightly on a monthly basis in March. This was revealed today by the statistics of the US Department of Labor.
Consumer prices rose 0.1 percent on a monthly basis last month, after 0.4 percent in February. Analysts expect the inflation rate to be 0.2 percent in March.
On a year-on-year basis, prices rose 5 percent from 6 percent in February. Economists had expected 5.1 percent.
Core inflation, which adjusts for food and energy prices, came in as expected at 0.4 percent in March, down from 0.5 percent a month ago.
On an annualized basis, core inflation stood at 5.6 percent, up slightly from 5.5 percent a month ago. Economists were also expecting 5.6 percent.
As the news reached the market, the Bel20 and other European indices rose immediately.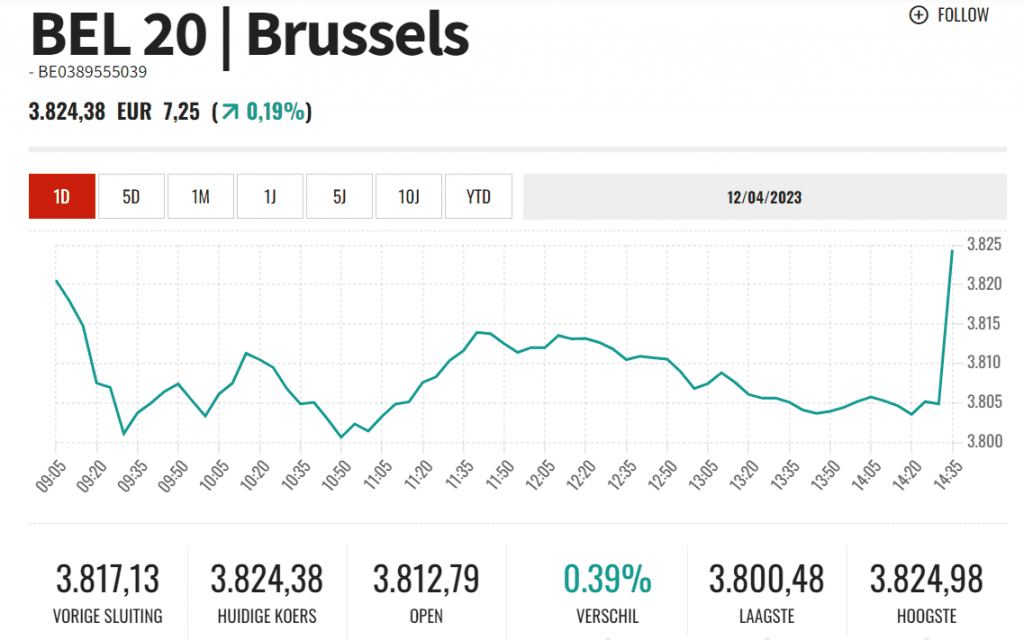 14.11 – Belgian biotech companies are popular
Biotech firm Mitra is currently up 6.2 percent. So the share price is 3.08 euros, the highest level since March 20.
Other Belgian biotech stocks are also doing well today. For example, MDxHealth has a profit of 4.35 percent and Sequana Medical has a profit of 1.6 percent.
11.56 – Bell20 awaits US inflation data
Just before noon, the Bel20 was down about 0.14 percent.
10.38 – Azelis increases turnover by acquiring Vogler
Azelis expands its geographic reach with the acquisition of Vogler, which will contribute $50 to $100 million in sales. This was stated by ING's analyst Stijn Demeester today.
This is Azelis' second step into Latin America, following last year's acquisition of ROCSA in Colombia.
Vogler's acquisition gives the company a dominant position in the Brazilian food and nutrition market. Vogler can also be used as a platform for further development, the analyst believes.
The transaction is expected to close in the second quarter of 2023.
09.11 – Opening of the Flat Stock Exchange in Brussels
At the opening of the stock market in Brussels, the Bell20 star index is very flat. Gains were mainly offset by losses in heavyweight AB Inpay.
09.03 – CEO change at cancer watchdog Biocortis
Hoping to reverse Biocortis' steady decline in share prices, another captain was appointed: Roger Moody.
Read more about it here.
08.23 – VGP advances on ESG basis
VGP has "significantly accelerated" solar cell roll-out as part of its ESG objectives. VGP said this this morning.
Of the 204.3 MW of rooftop solar in the pipeline, 57 MW is in operation and 75 MW is under construction, the company said. Because of this acceleration, more electricity will be generated annually than consumers use in a year.
VGP's ESG performance has been recognized by Euronext, resulting in VGP being included in a group of 20 Belgian companies at the forefront of ESG initiatives.
Also, VGP informed that the company's general meeting will be held on May 12 in Antwerp.
07.45 – Partners align themselves against Ahold Delhaize triple lead
Some union activists at Delhaize hope to infiltrate parent group Ahold Delhaize's general shareholders meeting in Zaandam, the Netherlands, this afternoon.
In addition to the Belgian trade union, Dutch trade union and environmental organization Milieudefence will also attend.
Read about it here.
07.24 – Wall Street closed mixed yesterday
Today we await the US inflation report. Anticipating this, the markets did not fully rally.
The Dow Jones The trading day ended 0.3 percent higher.
The S&P500 It kept kicking in place.
The Nasdaq It fell 0.45 percent.

"Award-winning beer geek. Extreme coffeeaholic. Introvert. Avid travel specialist. Hipster-friendly communicator."