Evnia products want to appear comprehensive and contrast
written by Tom Kauenberg on
Philips Monitor Arm (TP Vision/MMD) has officially revealed the Evnia gaming brand. Under Evnia, the manufacturer aims to provide comprehensive gaming products.
Evenia It will soon launch its first series of monitors, as well as its own gaming mouse, headphone, desk, and mechanical keyboard. Evnia products are divided into three groups: the 7000 series and 8000 series for the best specifications and wireless luxury (above 2.4GHz and Bluetooth) and the 5000 series as a wired medium. The affordable 3000 series of products, for example without RGB lighting and with slightly lower specifications, should follow later.
In the context of sustainability, many Evnia products are made (in part) from recycled materials. This will be the first in the monitor market; The components of the standards are said to be made from recycled materials for the first time.
It's about Evnia's first controller 34M2C7600MV34 inch (21:9) curved uwqhd monitor, up to 165 Hz refresh rate. The 8-bit VA panel is backlit by MiniLEDs with 1152 local dimming zones, which achieves DisplayHDR 1400 certification with 1400 nits peak brightness.
The first Evnia has a response time of 2.5 milliseconds (GtG) and should also support unbranded Adaptive Sync. The latter should apply to all subsequent Evnia monitors, though the development team is still looking into possible integrations for AMD's FreeSync (Premium Pro) and/or Nvidia's G-Sync.
The Philips Evnia 32M2C7600MV should be available in December with a suggested retail price of 2069 euros.
It was already shown during the unveiling event, but only later in the timeline are there three alternate screens. For example, the 42M2N8900 is a traditional 42-inch flat OLED display with 4k resolution, with a refresh rate overclocked by Philips of up to 138Hz. By default, the monitor runs at 120Hz, with controller compatibility via HDMI 2.1. An almost TV-like screen has been customized with a suggested retail price of €1959.
The 34M2C8600 also responds with visual luxury, with a curved ultra-wide screen with qd-oled technology behind it. This screen should record up to 175Hz of refreshment, with typical OLED response times of 0.1ms. The suggested retail price is 1,849 euros.
As a less premium product, the first Evnia 5000 screen was also shown during the unveiling event, without the Ambiglow. The Evnia 27M2C5500W meets the needs of the esporter, with a 27-inch QHD curved screen at 240Hz. The core technology here is a VA panel, with a promised 1ms (GtG) response time. The faster screen should officially appear in January, with a suggested retail price of 549 euros.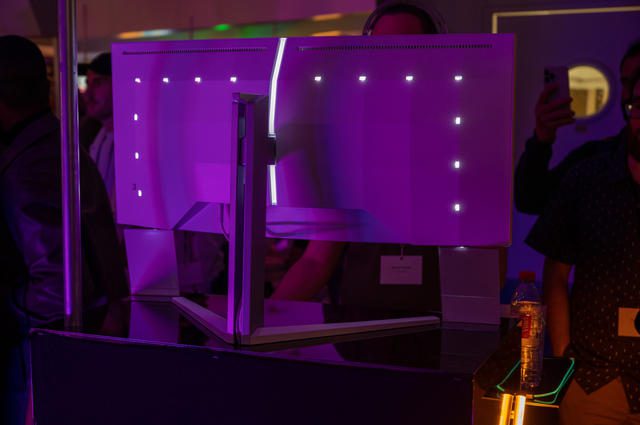 Unique in the design of Evnia displays, as well as the fixed white housings of 7,000 products, is the presentation of Ambiglow: an adaptation of Philips' signature Ambilight backlight. By means of bright RGB diodes on the back of the monitor, image colors (or other RGB profiles) can be projected onto the wall behind the monitors.
As a distinctive style element, Philips puts an RGB banner on most Evnia products. Monitors, mice, and headphones all display a central light strip, consisting of multiple programmable RGB diodes. In addition, many products consist of polygon-like "planes" (such as the backs of monitors or in the chassis of mice), a design choice designated by the codename "Pixel" at Philips.
Philips introduces the so-called P-Center as lighting control software (along with Ambiglow and other user settings). P-Center's personal profiles can also be stored online so that users can retrieve them from anywhere.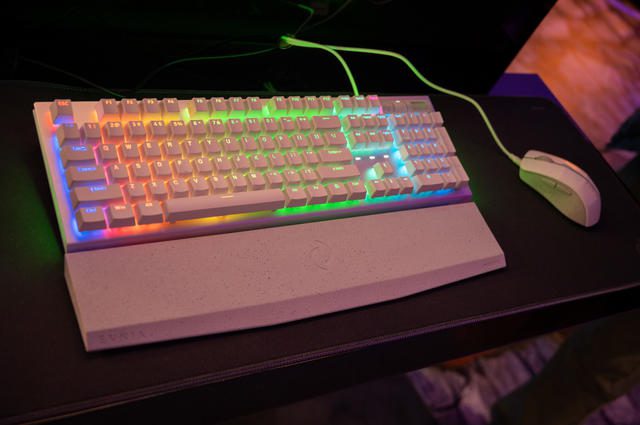 In terms of its input equipment specifications, Philips is running safe, according to product leader César Acosta. Evnia's previously revealed mice are powered by the critically acclaimed PixArt optical sensors (currently at 16,000 or 20,000 dpi) and use the Cherry MX keyboard, albeit only ostensibly in the linear version. The Evnia 7000 wireless headphone is promised with 50mm drivers, with DTS Surround support.
More details about Evnia Peripherals are yet to be released. Obviously, the 7000 series of devices can be used stably both wired and wireless, while the 5000 series again blocks wireless. From the images in the presentation, it is clear that the future 3000 series will also remove RGB elements, to further reduce costs.
Philips has yet to mention any price tags for many other products, let alone an accurate roadmap for deploying more of the portfolio. It was announced that Evnia will be collaborating directly with sports athletes, such as Sylvia 'QueenArrow' Gathoni and Team Vitality. Team Vitality players will soon be switching entirely to monitors and peripherals from Philips Evnia.

"Lifelong zombie fanatic. Hardcore web practitioner. Thinker. Music expert. Unapologetic pop culture scholar."