The AEX is -0.3%…not much to say at the moment.
The Netherlands is officially in recession, and so on. Bloomberg tells ASML something Coming from The Hague, the Fed is making mixed sounds about interest rates.
European futures open from -0.2% to -0.8%
US do -0.4%
In Asia, China is closed (Hong Kong is open, the Hang Seng is -1.9%), and Japan is down -1.5%. Korea does -0.9% and Taiwan +0.1%. What a mess really…
Alibaba -1.2%
Tencent -1.4%
TSMC -0.3%
Samsung + 0.7%
Volatility (CBOE VIX) continues to decline and now stands at -2.2% at 12.9%. The BofA MOVE Index (Bonds) is -2.8% at 107.7
The choppy dollar is now back at -0.2% at 1.0930, after some hawkish and divisive noise from the Fed.
Gold rose by 0.1%, Oil fell by 0.9%, and the price of the cryptocurrency was also stable. Bitcoins are $30,048.87.
Interest rates have really gone back and forth in recent months, but they have been balancing sideways.
The media always knows how to make things federal. Noise. Just look at the prices in the forecast and then you know enough. There's a quarter coming up.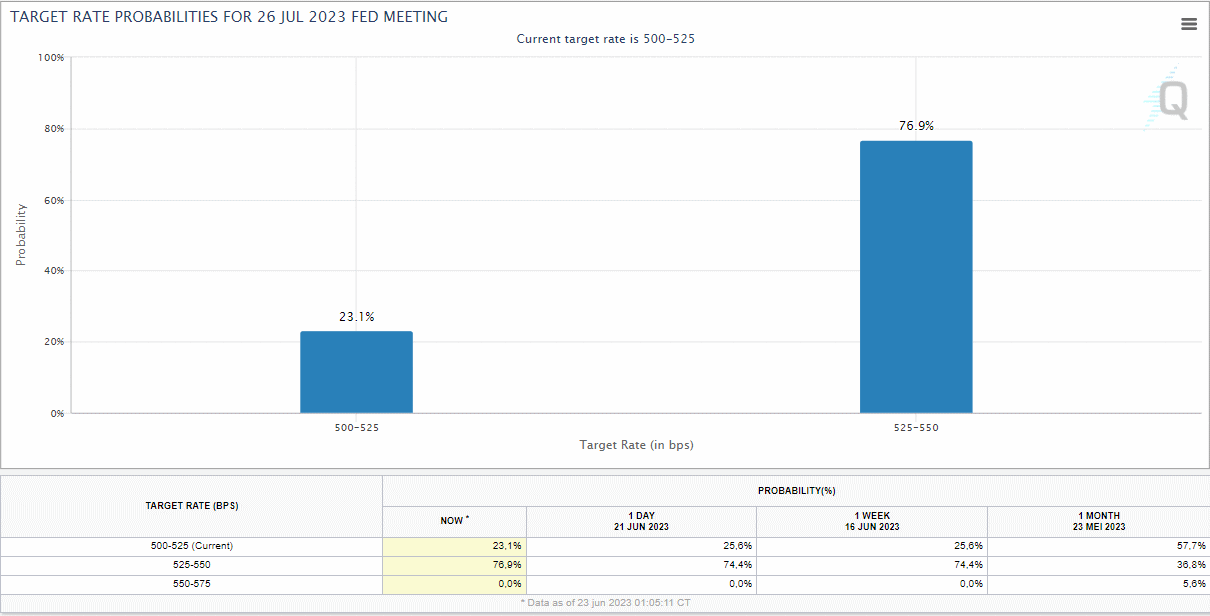 First things first, ASML. Quote from Bloomberg and in fact there is no new news yet. There is also no response from ASML itself to the message. There will be something on but what?
The Dutch government plans to roll out new export controls that will restrict more ASML Holding NV chipmaking machines from being sent to China as soon as next week, according to people familiar with the matter.
Bloomberg previously reported that the measures, which the government pledged to publish before the summer, will not mention China or ASML, but are designed to restrict shipments of three models of the company's machines to the Asian country.
Lawmakers have drafted the export control regulations as a blueprint that could be used by other EU member states and aim to publish them as soon as June 30 or the first week of July, said people familiar with the situation, who asked not to be identified. Because the plans are not public.
A Dutch government spokesman declined to comment.
The Dutch government plans to roll out new export controls that will restrict more ASML chip making machines from being sent to China, according to sources. https://t.co/lU5DpIWU1S

– Bloomberg Markets June 22, 2023
The price didn't do anything with it yesterday either. This is the NASDAQ listing for the fund.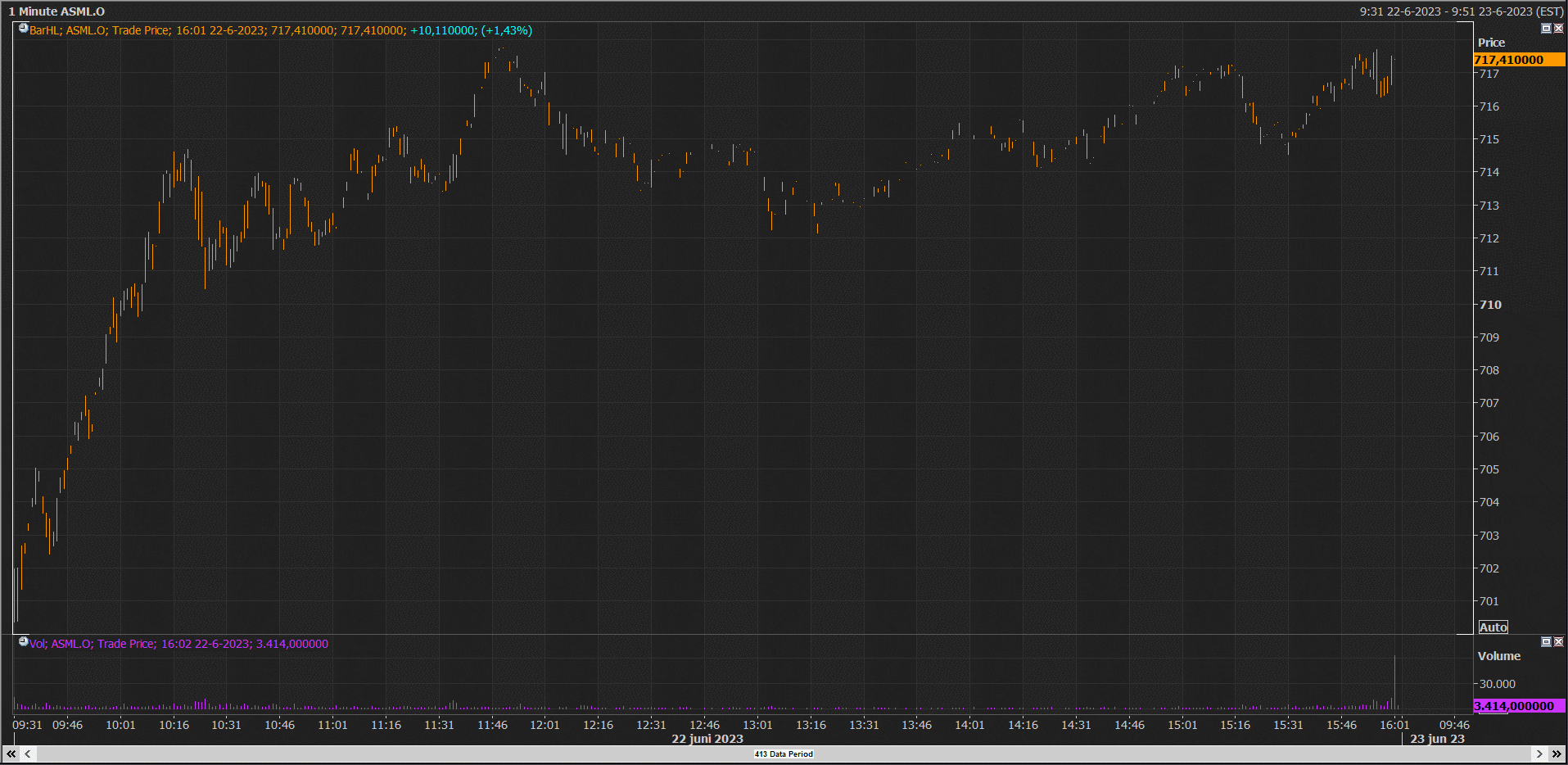 Also good morning, two consecutive quarters of contraction: The Netherlands is now officially in recession. So now the bad news. The good news is -0.3% during the first quarter is better than expected. -0.7% was expected, as in Q4 2022.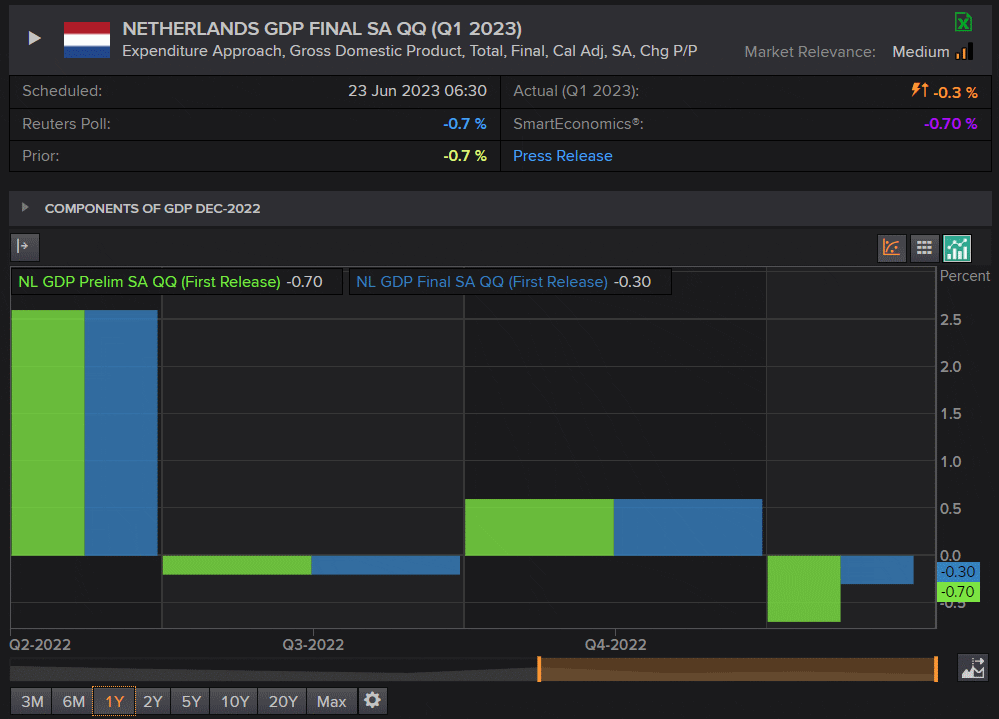 Nice that they coincide! Nobody cares about the GDP number in the stock market. Q1, that's a prehistoric number and investment looking forward. Also today there are the first estimates of PMIs (PMIs are the best leading indicators of GDP for GDP) for the month of June already. Unfortunately, not Holland, but Germany and the United States.
Japan is a disappointment indeed and a bit too, and Australia is a mixed bag, but this is really only interesting for the most die-hard co-writers.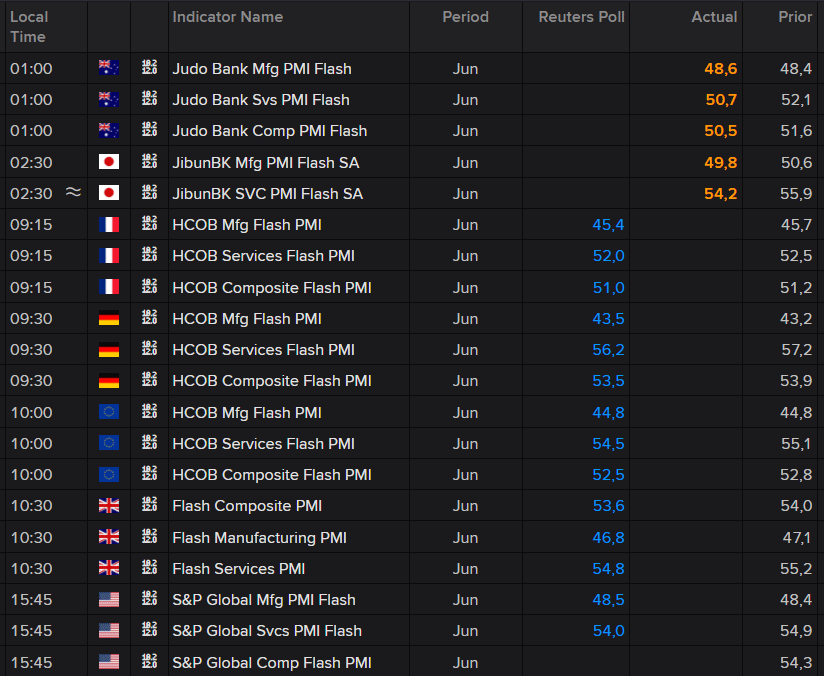 Is it still assessments of a number of indicators and the difference between us and the rest remains colossal. The S&P 500 is 2 times more expensive than the Hang Seng and this is definitely not #14 with the white rice index. AEX makes 14.5 times the expected profit.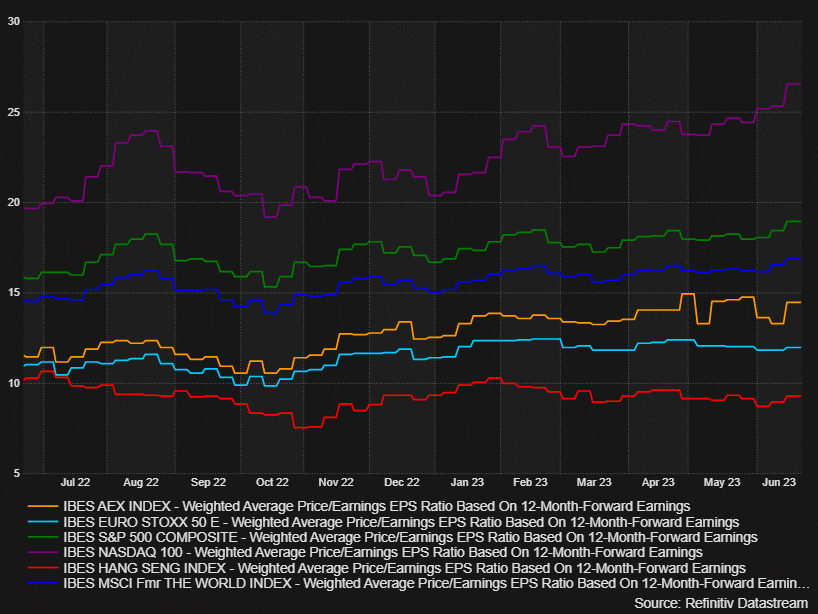 News, short tips and agenda
Top ABM Financial news since yesterday's Amsterdam close.
08:08 British retail sales rose unexpectedly
07:58 "Yelen sees US recession risks diminishing"
07:56 Expect lower start of AEX due to fear of attention
07:35 Aegon takes Transamerica back to its roots
07:26 NN will buy back shares
07:14 European stock markets are expected to open lower
07:05 Japanese inflation fell in May
07:02 contraction of the Japanese industry
07:02 The Dutch economy contracted smaller than expected
06:55 Stock Exchange Agenda: Foreign Funds
06:55 Stock Exchange Agenda: Macroeconomics
06:54 Exhibition agenda: Dutch companies
Stock Market Update June 22: AEX is on Wall Street
Wall Street June 22 closed higher
June 22nd Oil price closed sharply lower
June 22nd Fed members are sending mixed signals
June 22nd Wall Street heads for a flat close
June 22 European stock markets closed lower
June 22 Alumix records strong revenue growth
June 22 Majorelle shareholder meeting approves all agenda items
June 22nd Closing Call: Chippers pulls the AEX away from Canyon at the last minute
AFM reports this Shorts And you see Alvin up 10%. Just Eat Takeaway comes in the back.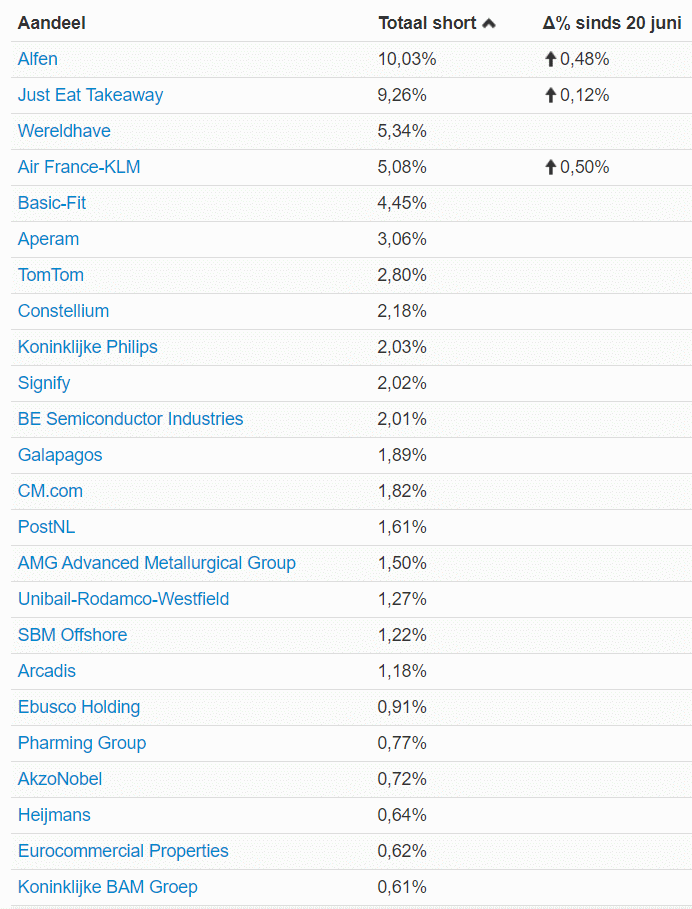 Agenda and there's not much to do except for these:
00:00 Alumexx – Annual Meeting
01:30 Inflation – May (Japan)
01:30 Composite PMI – June (Japan)
06:30 Economic Growth – First Quarter Second Estimate (NL)
08:00 Retail Sales – May (UK)
09:15 Composite PMI – Jun (Fra)
09:30 Composite PMI – June (Germany)
10:00 Composite PMI – June (EUR)
10:30 Composite PMI – June (UK)
15:45 Composite PMI – June (US)
Then this
S&P 500 +0.4% and NASDAQ 100 +1.2%:
The S&P 500 and Nasdaq closed higher, but stocks broadly were on their way to snapping losses for the week as Federal Reserve Chairman Jerome Powell backed more rate hikes. https://t.co/UOxQuqyZ1k pic.twitter.com/8rU1idtuXC

Reuters Business (ReutersBiz) June 23, 2023
Hereby:
EXCLUSIVE: Treasury Secretary Janet Yellen says the odds of a US recession have "reduced," though it remains a risk due to Fed tightening https://t.co/8S655SMEGw

– Bloomberg Markets June 22, 2023
Come on, the United States is doing everything to please India?
Tim Cook and celebrities like M. Night Shyamalan dine on a multi-course vegetarian feast https://t.co/lRXinBhlHh during bpolitics

– Mackenzie Hawkins (machawk) June 22, 2023
Real estate is a tough business
NEW: As the hybrid business becomes more entrenched, commercial owners are staring down a mountain of debt – causing pain from San Francisco to Hong Kong.

Reading The Big Take??https://t.co/RVRJQnMFpR

– Bloomberg Markets June 23, 2023
Oh, my God. Fortunately, they have a great road network in America, or there is no danger that it will spontaneously disintegrate.
A new report suggests that the quality of new cars in the US is declining, as automakers rush to roll out innovative models amid easing supply restrictions and labor shortages. https://t.co/qklzGUbTbZ pic.twitter.com/HxJNF6gwGh

Reuters Business (ReutersBiz) June 23, 2023
Fortunately, we still have the European Union now perhaps the most staunch opponent of the European Union, because we don't invest in anything anymore 🙂
The European Union is investing millions in Dutch railways and inland freight https://t.co/APqq7nbDQ0

– BNR News Radio (BNR) June 23, 2023
No Holland again:
WATCH: US chipmaker Intel said it has decided to invest up to $4.6 billion in a new semiconductor facility near Wroclaw, Poland's third-largest city. https://t.co/FDYcyXx7vp pic.twitter.com/81Zyc9HhKX

Reuters Business (ReutersBiz) June 23, 2023
Enjoy and good luck today.

"Lifelong zombie fanatic. Hardcore web practitioner. Thinker. Music expert. Unapologetic pop culture scholar."