Lamptron has added a new product to its range of device monitors: HM024 Vertical GPU Stand† In addition to holding the video card vertically, the HM024 can display CPU and CPU temperatures, among other things.
And it does so on the integrated 2.4-inch LCD screen, which can display hardware information from the AIDA64 software (which is paid for by the software by the way). Users can design the interface themselves.
The screen resolution is 240 x 360 (60 Hz), with a viewing angle of 120 degrees. Connecting via USB, both a USB header on the motherboard and a "normal" USB port can be used for this.
The rest of the GPU stand has an Asus ROG design. It is unclear whether it will be a collaboration with Asus, or if the HM024 will also be released in other designs.
Lamptron is originally a German company focused primarily on the niche market of projector screens. Screens range from 2.2 inches to 19.1 inches, with or without touch functionality. The company also makes fans, fan controllers, and RGB LED strips.
The Lamptron HM024 does not appear to be sold (yet) in the Netherlands, but it can actually be found in German web stores for around 150 euros.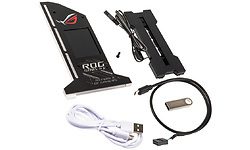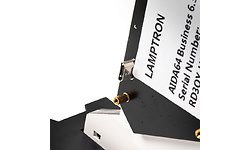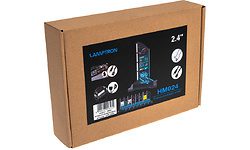 source:
Lampron
« Previous Post Last Next »

"Lifelong zombie fanatic. Hardcore web practitioner. Thinker. Music expert. Unapologetic pop culture scholar."