Haney of Oirschot has been a huge fan of Bruce Springsteen and the E-Street Band for nearly forty years. "His shows are really great, interacting with the audience, for hours. You have to see it once to understand it." In 2010 she received an unexpected visit at home from current saxophonist, Jake Clemons.
It's 1984 when Hani is overwhelmed President. Springsteen broke through to audiences that year with the album Born in the United States. It turned out to be Springsteen's most successful album of all time, with seven singles as the top 10. Hani hears more and more of his music and sees it appearing in the occasional formation USA for Africa From 'We are the world'.
"Bruce in that video, I absolutely loved it. That year, there was also a special about Springsteen on TV: 'Glory Days'. I didn't know what I was seeing, so much chemistry. That year I wanted to go to His concert but unfortunately I didn't have any tickets."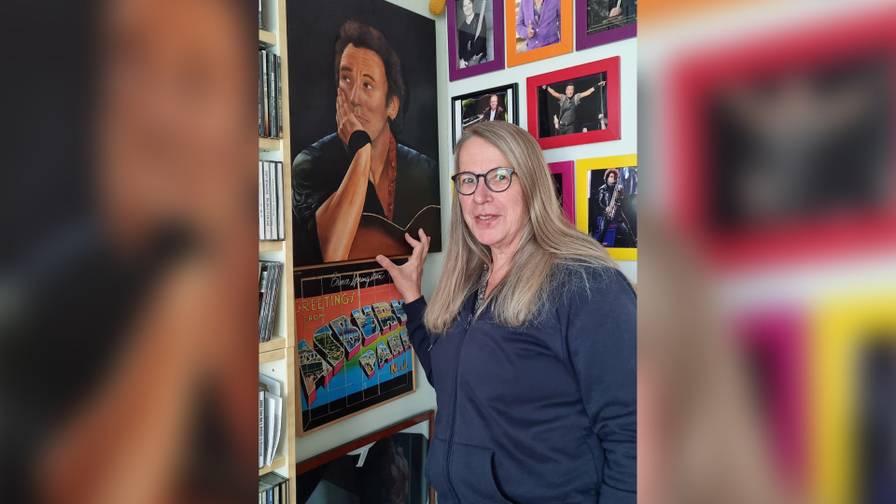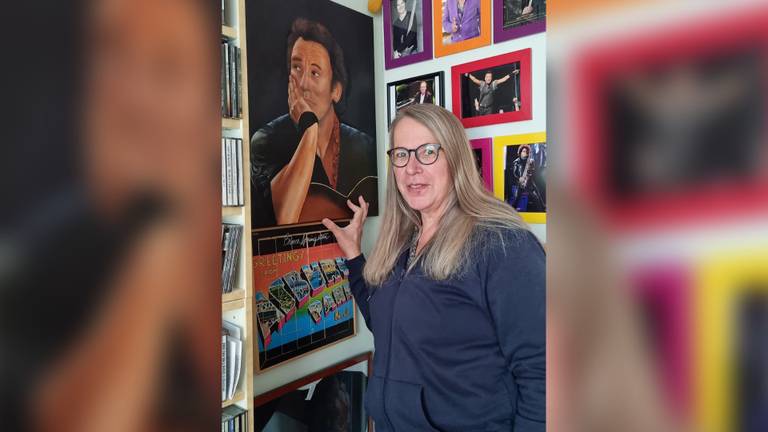 Her first concert was followed in 1988 at De Kuip in Rotterdam. "I didn't know what happened to me, this is a great show. During that time, he told many stories on stage, with his saxophonist Clarence Clemons. I thought it was magical."
I have now attended about 35 of his concerts. The artist will be touring again next year after a long time. Hani already has tickets for five concerts. Twice in the Netherlands, once in Hamburg, Zurich and Monza.
She has plenty of anecdotes about her love for Springsteen, but one of them takes the cake. She meets fans at every prom she attends and has built an entire club of Springsteen friends. Likewise in Brussels. "My friend Aniki lives there. I ran into Jake Clemons at a Springsteen concert in 2010. Jake Clemons is present as a spectator and is the nephew of saxophonist Clarence Clemons.
"My girlfriend started talking to him and he told me he really wanted to perform in Europe. If she didn't know the address." Her friend arranges something in Belgium and Clemons is also directed to the possibility of performing in Holland. Because friend Hani would probably do something for him, too.
"I thought about a barbecue, but I had to play the princess of the kitchen."
"This was not a problem. We arranged a room in which he could play, above The Movies on the Stationsplein cafe in Eindhoven. But during preparation it turned out that he was missing a cable. We searched the whole city for such a cable, but we could not find it in any place ". Hani calls her brother, a helpful Harry who can make anything. It has all the parts and is the perfect cable for Clemons.
Meanwhile, Haney asks what does Clemons want to eat. I asked him if he wanted to eat with me or in town. And what does he want to eat? "Typical Dutch food"was his answer. I actually thought I'd light up the barbecue, because that's always good with Americans, but now I had to play the princess of the kitchen," she laughs.
When her brother brought the cable, she immediately asked him to do some shopping. 'I said, 'Get some fries and turnip and smoked sausage and I'll make the cabbage broth. "My brother thought it was a crazy idea. But yeah, Jake wanted to eat something typical Dutch."
Jake still uses that cable.
And this happens. Clemons goes to Oirschot after the performance and ends up at Hanny's kitchen table. "I put a pot of turnip puree on the counter and he twisted it three or four times, and the pot was almost empty. My girlfriend pointed out to him that he had to make a well in the seal, so he could get the broth in there. He loved it!"
Clarence Clemons died a year later. Jake has been on stage with Bruce Springsteen ever since as a saxophonist. Her friend is still in touch with him, and does not rule out meeting him again. "He still uses that cable. We saw that on one of the recent shows."
This week Omroep Brabant Radio dives into The Feeling of the Eighties, stepping into a time machine and going back some 40 years in time. You can still hear the best music from the '80s this week. Want to go to an ET movie exclusively at the cinema? Listen to the '80s feel' and win tickets!

"Unable to type with boxing gloves on. Freelance organizer. Avid analyst. Friendly troublemaker. Bacon junkie."