When the doors of the Moscow Council of Trade Unions open at 10:00, it immediately becomes clear that not everyone who wants it will be able to pay their last respects to Mikhail Gorbachev. The crowd is large and the first hundreds, then soon thousands of people joined the line at Bolshaya Dmitrovka and the side street that opens on it. The ceremony was initially set at four hours, but the Kremlin reduced it to two hours the day before, without giving reasons.
The Council of Trade Unions is a beautiful, light green 18th-century building that pales dramatically over the neighboring Russian lower house, the State Duma. From here, former Soviet leaders such as Lenin, Stalin and Brezhnev were taken to their final resting places. Tchaikovsky gave a presentation there and writer Fyodor Dostoevsky once gave a fiery historical speech here. House seen a lot.
Heavy police presence, moderate mood

The line is still standing for a long time. Everyone must pass through a metal detector and in groups people are allowed to pass slowly, from one section of the street with crushing barriers to another. The police act collectively. The mood is mild and the people in line are happy to tell you why they are here, although most don't want their last names written in the newspaper. This readiness is not self-evident in modern Russia.
"I came to thank him," said Alexander, 62. He smiles when he remembers Gorbachev's time, he was young and just started out as a research assistant. Gorbachev gave us freedom, and this is the most important thing. We felt that there are many new opportunities and a good future awaits us. Alexander says there is another reason we are here. "I also came today to talk about what is happening with us right now."
He is not alone. Jelena (54 years old) wears a bright blue jacket with a yellow blouse underneath, unmistakable the colors of the Ukrainian flag. "No, that's definitely not a coincidence," she says. In our country, a catastrophe of global proportions, such as has not occurred in the history of Russia, is occurring. And I know the history of Russia very well.
Her voice is emotional when she calls Gorbachev "a major". I just learned that his mother and father were both Ukrainians. It's amazing that he had to go through this. I think he experienced a great tragedy in his life: the death of his wife and this disaster that was in full swing when he passed away. Imagine that at his age, everything he represented was destroyed.
Putin is absent

Within the Council of Trade Unions there is a new control. Two soldiers strictly surround a large black and white photo of Gorbachev. Long empty corridors and stairs lead to the Colonnade Hall, where the deceased lies in a semi-dark state, surrounded by honor guards, relatives, and a handful of journalists. We can't say goodbye for long, and urge everyone to quickly walk towards the exit.
Notables are rare today. President Putin is absent. It was only two days earlier that Gorbachev was admitted to the hospital where the former president died. According to his spokesman, "Putin had no place on his agenda" on Saturday. The most notable foreigners are Hungarian Prime Minister Viktor Orban and US Ambassador John Sullivan. Nobel Peace Prize winner Dmitry Muratov is also there, and he is a good friend of Gorbachev.
"I just came to pay him the last respect," says Vasily, a 70-year-old bald man. "I have good memories of him, he is a good man, he believed in people, even if people did not support him. Gorbachev gave freedom to the country, he showed what was possible." After that, some abused it, using this freedom for their own gain.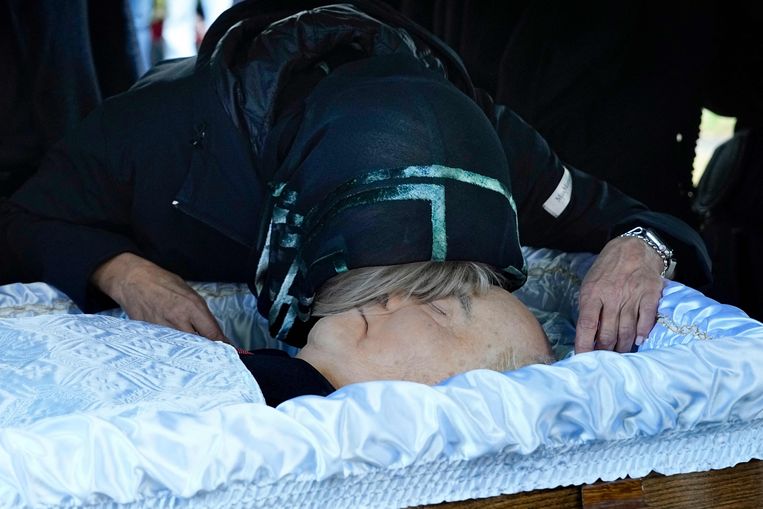 Rally of defectors

Historian Igor Chubais (75 years old) is patiently waiting for the moment when he can also enter the Council of Trade Unions. He tells how in 1990 he spoke at the largest demonstration ever in the Soviet Union, a few hundred meters away in what is now Manigbelin. Chubais said that Gorbachev wanted to reform the system. "But he should have dismantled it. Yeltsin did not in the end. That is why the old regime survived. That is why we are now surrounded by enemies again."
Gorbachev's farewell is a special event, and everyone present knows that. It is a mass gathering of dissidents, which is hard to imagine in any other context. Some speak of a "demonstration without police intervention". Even after walking along the casket, many people remain on the street to chat. Hundreds gather across the busy road that runs through the building to catch a glimpse of the sarcophagus as it is taken outside on the final car trip to the cemetery. There is applause.
"This is a farewell to everyone to whom we owe an enormous debt," said Jan Raczynski, 63, head of the human rights organization Memorial, which was dissolved this year by order of a judge. It is impossible to overestimate his role in history. A proper evaluation for this role is yet to come. He has accomplished more in six years than anything he has accomplished in thirty years."

"Infuriatingly humble social media buff. Twitter advocate. Writer. Internet nerd."