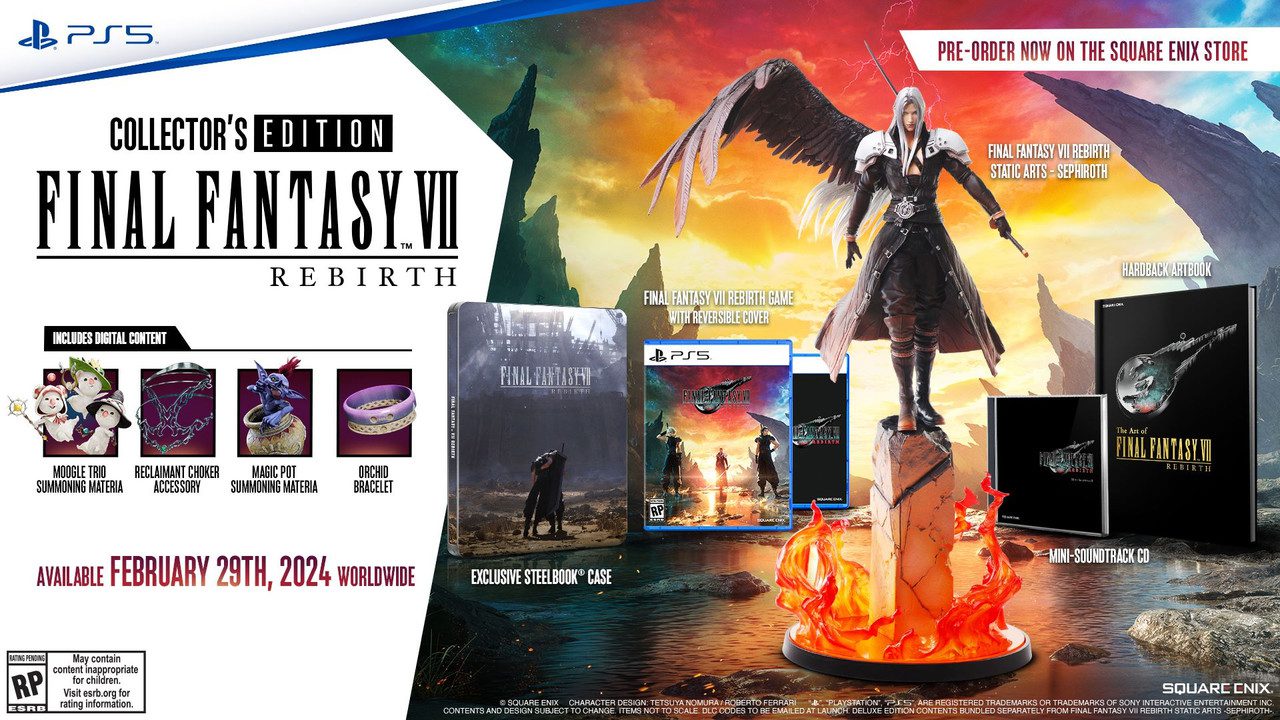 The new trailer for Final Fantasy VII Rebirth made an impression earlier this week during the State of Play broadcast and we can say that the hype for this new installment in the remastered Final Fantasy VII trilogy has grown even more. In addition to the trailer, the release date and details about the different versions of the game have also been released.
From now on you can use Square Enix store Place your pre-orders. You can choose between the Standard Edition (€79.99), the Deluxe Edition (€109.99) and the True Collector's Edition (€379.99). It is the latter that particularly attracts attention, because its price is very high. You will receive a lot of extras and a large statue of the "One-Winged Angel" himself: Sephiroth. Below you can read exactly what you can expect from the different versions.
Final Fantasy VII Rebirth releases on February 29th.
Deluxe edition

Physical game
Mini art book
Mini CD OST
steelbook case

Collector's edition

FINAL FANTASY VII DELUXE EDITION
Final Fantasy 7 Rebirth Fixed Arts – Sephiroth
almost. 48 cm / 19 inch statue depicts the iconic antagonist Sephiroth with a highly detailed sculpt. The wing can be detached.
Moogle Trio Summon Material (DLC)
A summoning material that can summon the "Moogle Trio" in the game.
Magic Fate Summoning Material (DLC)
A summoning material that can summon "Magic Pot" in the game.
Accessory: Retriever Necklace (DLC)
A pendant that has the effect of restoring health when an enemy is defeated.
Armor: Orchid Bracelet (DLC)
A bracelet that gives courage to traverse an ever-expanding world.
Armor: Midgar Bangle Mk. II (DLC)
A bracelet worn by travelers leaving Midgar.

"Lifelong zombie fanatic. Hardcore web practitioner. Thinker. Music expert. Unapologetic pop culture scholar."