American rock singer Bruce Springsteen has been awarded the highest cultural award in the United States by President Biden. Springsteen was awarded the National Medal of Arts at the White House, along with fashion designer Vera Wang, singer Gladys Knight and actress Julia Louis-Dreyfus, among others.
It was the first time in his presidency that Biden had handed out the accolades. Springsteen, 73, was hailed at the ceremony as one of America's greatest artists and storytellers.
As a joke, another reason to single out Springsteen is mentioned: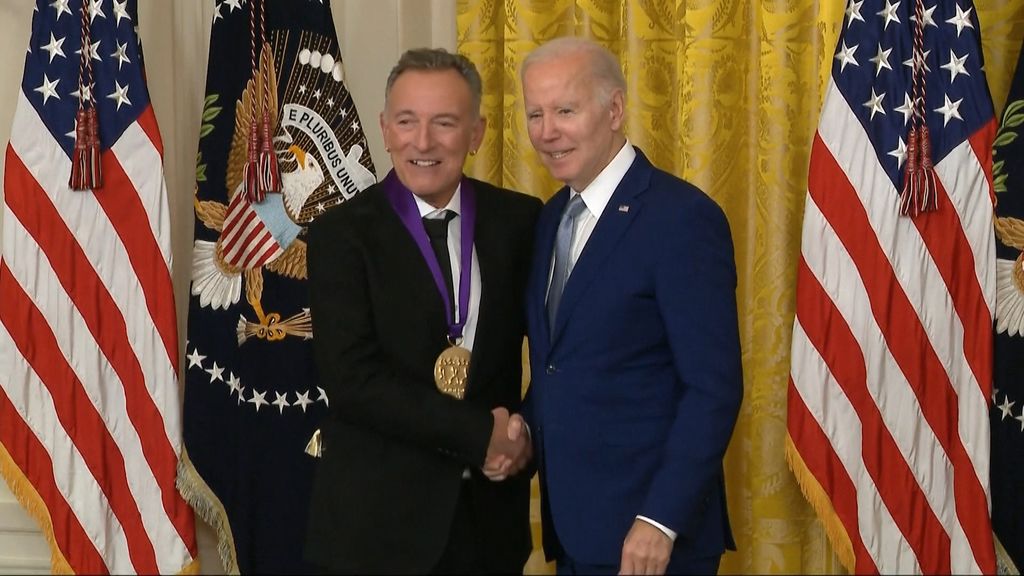 The "leader" receives the Medal of Arts from President Biden
The National Medal of Arts was created in 1984 under President Reagan to honor the extraordinary contributions of the American cultural sector. Then the award was in the news several times when the winners refused it. Composer Leonard Bernstein, for example, refused the medal in 1989 due to the withdrawal of government support for an art show about AIDS.
Poet Adrienne Rich declined the prize in 1997 because of the "cynical politics" under the then Clinton administration when it came to the cultural sector.
The awards have been presented every year since 1984, through former President Trump Unknown reasons he did not do. He handed out medals in the last two years of his presidency.
The winners Biden announced today are in fact the winners in 2021; Due to the Corona pandemic, the awards ceremony has been postponed.
For Bruce Springsteen, this is not the first prestigious award; In 2016 he was awarded the United States' highest possible civilian honor (the Presidential Medal of Freedom) and in 2009 he was honored with the Kennedy Center Honors.
Springsteen is one of the most successful American artists of all time. He has sold around 140 million albums worldwide, earning multiple Grammys and Golden Globes and also winning an Academy Award (in 1994, for the movie theme song. Philadelphia).
Born in the USA Since 1984 is the best-selling album in the Springsteen catalog. The title song was an indictment of the Vietnam War, among other things, but was misinterpreted by then-President Reagan as a patriotic song:

"Unable to type with boxing gloves on. Freelance organizer. Avid analyst. Friendly troublemaker. Bacon junkie."