War correspondent Hans Jaap Millesen tells the story of the people behind the war in Ukraine for NU.nl. Today from Izyum, a place in Kharkiv Province that was liberated (exactly) a month ago.
"Sorry, the pontoon bridge is broken," shouted some of the soldiers. "You have to wait or turn around." Army trucks stand on the pontoon bridge, while technicians attempt to stabilize it.
Moreover, there is another bridge, but there is constantly traffic stuck in the mud and in each other. The bulldozer begins by hitting the bushes and leveling the mud next to the road, giving the traffic some space.
Izyum is one of the first places liberated during the massive counterattack of the Ukrainian army last month. More and more residents are returning, while the dead have just disappeared. At least he died Mass grave On the outskirts of Izyum.
Half open coffins
Hundreds of corpses were exhumed to search in a forest adjacent to the Ordinary Cemetery. The pits were empty, wooden crosses protruded from them, with only a number on them. In some graves, coffins are still half open, as if the resurrection had taken place. But the judiciary is examining the bodies, which often show signs of torture.
A mass grave was discovered in a forest on the outskirts of the city of Izyum.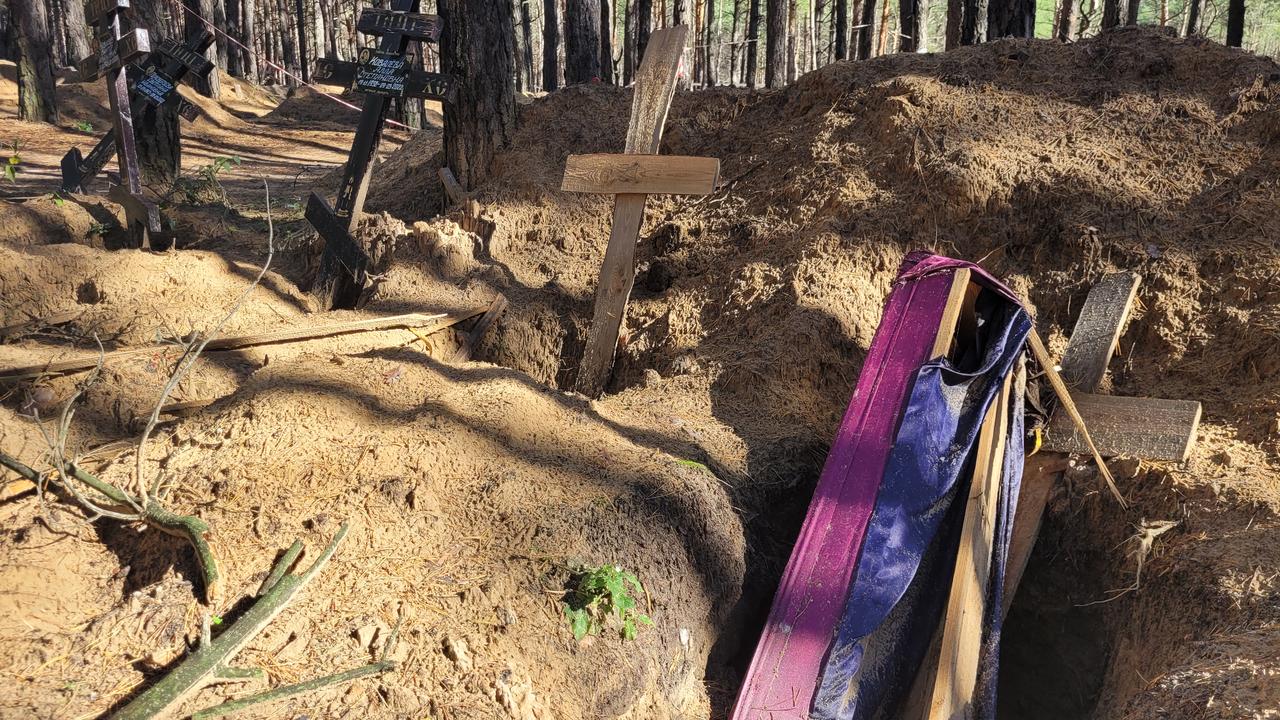 The only real resurrection must be the resurrection of Izyum himself. Deputy Mayor Volodymyr Matsukin hands full. He has an office in an alternate location, because almost all the official buildings have been brought down. "Everything is a problem. Electricity and gas. We are clearing mines."
Matsukin has become a concern since recent missile attacks on power plants across Ukraine. "We're in the process of recovering things like this. I hope we don't see missiles here again."
Volodymyr Matsukin, deputy mayor of Izium.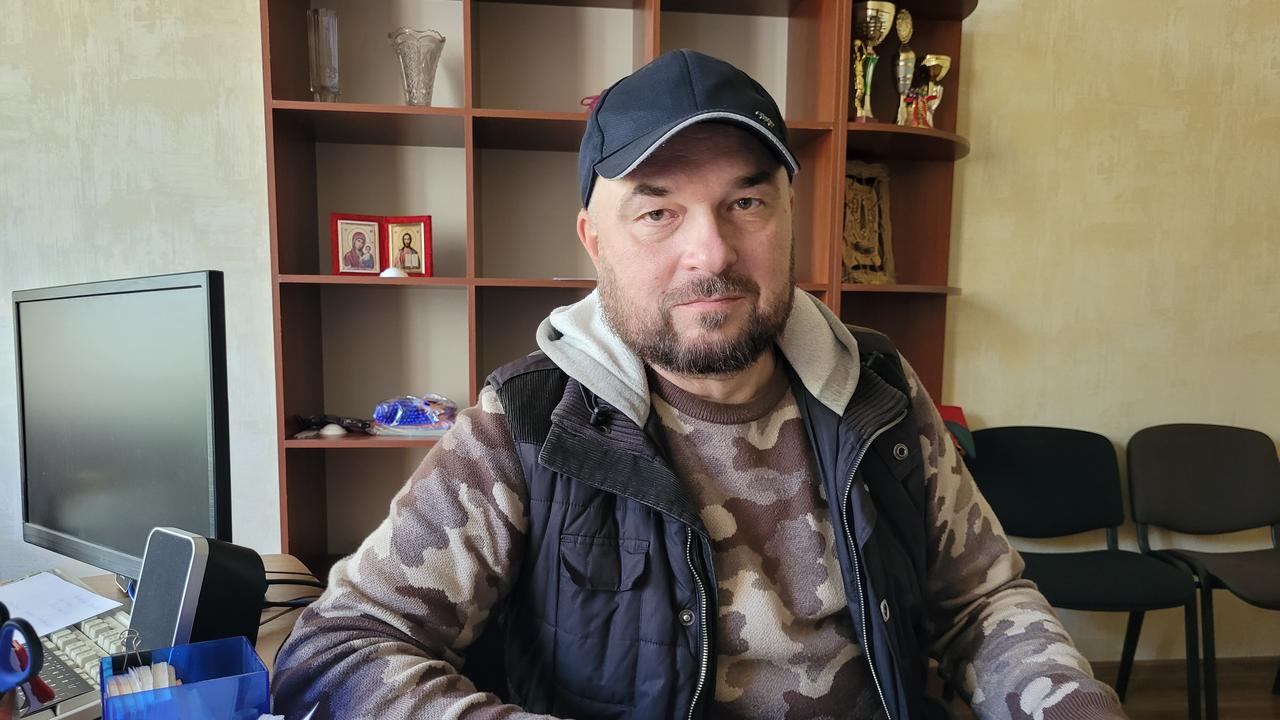 Electricity now comes mainly from generators. However, cell phones are getting stuck. In the middle, SIM cards from a well-known provider are sold from the back of the car. A little further away, there is a long line for a van, where volunteers hand out bread and toilet paper.
Winter worry
And also to Yevgenia, an elderly woman who, like most residents, does not want to reveal her surname. She is happy to help, but says she is worried about the winter. "We have had a hard time here under the Russians."
Yevgenia begins to get angry and speaks louder. "The Russians are just different people. Terrible. The soldiers from Luhansk and Donetsk who were sent here were the worst."
"The winter here is very cold …" says young Artem. "Damn it then," he explains. "I just converted our generator at home so that it also runs on gas instead of gasoline, but now there is no gas." He thinks he's better off than people who live in an apartment building. "We live in a normal house and we can do something with a wood-burning stove."
Artem from Ezeum is worried about the coming winter.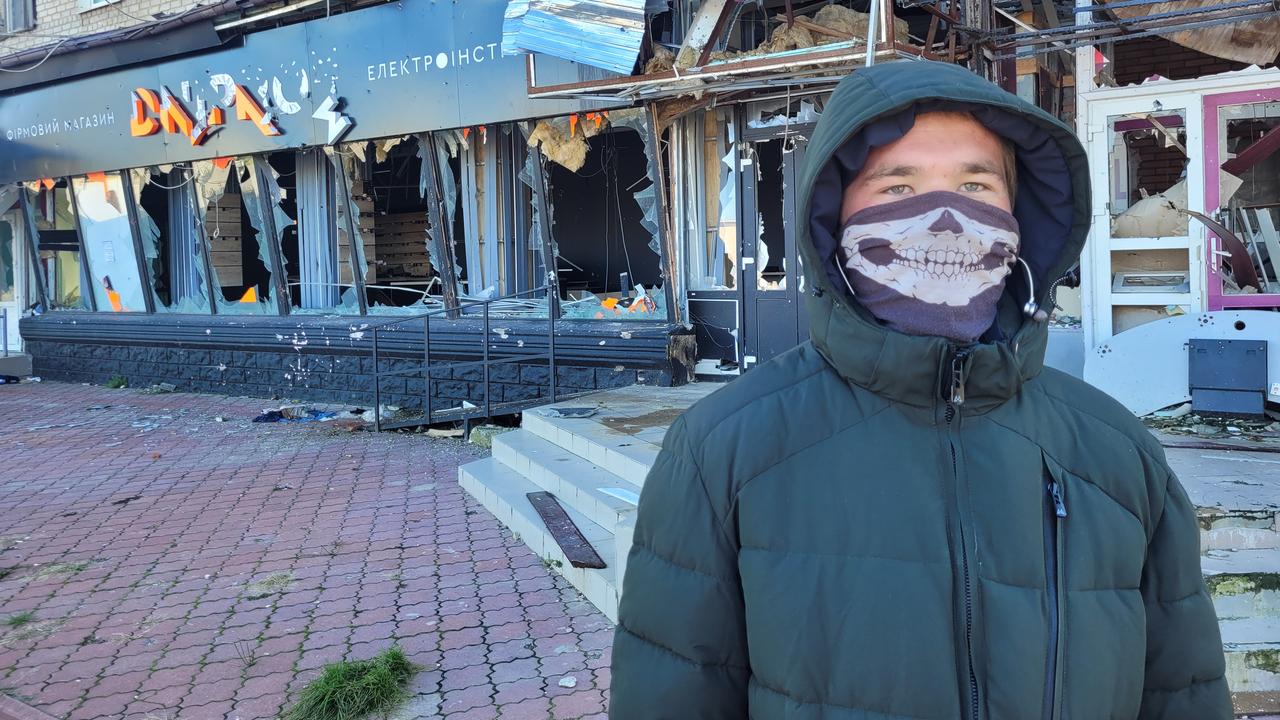 Artem believes that negotiations with the Russians need to be negotiated quickly. "They can still do everything for us. And if they want, soon the whole of Ukraine will be without electricity." He can't tell what those negotiations should look like. He also prefers to travel abroad, but men of his age are not allowed to do so. "Because it will remain a mess here in Iseum for at least three years."
Deputy Mayor Matsukin believes it will be a year or two before the old normal returns. "You know what I think might be the biggest problem: I have to work here again with the people who worked with the Russians." Makes his face dirty. "I can't do anything against them, because there's nothing in our laws about that."
"Even my grandchildren, if one day they will forever hate the Russians."
Volodymyr Matsukin, Deputy Mayor of Izium
For example, he mentions teachers who went to Russia, got a degree and wanted to teach a pro-Russian curriculum at Iseum. "Only a minority did, but still, how could they do it? While I know that even my grandchildren, if they ever come, will forever hate the Russians."
The front line is now moving more and more from Izyum, because the Russians are losing ground. In a store, some soldiers stock up on food and batteries to take to the front.
Private Andry Denyschenko helped free Izium and hopes to do the same with more places. "We will continue. Even if Putin threatens with all those missiles, or something like Hiroshima. In the end, he basically hurts himself."

"Infuriatingly humble social media buff. Twitter advocate. Writer. Internet nerd."