Incoming and outgoing cargo at Dutch ports will increase by 1.2 percent to 622 million tons in 2022 compared to the previous year. Specifically, more goods were unloaded (+ 4.6 percent); Loaded goods actually decreased (-5.8 percent). Very little was supplied from Russia and most from the United States. This is clear from the new statistics CBS.
By 2022, it has become 433 million Tons of stuff Landed in Dutch ports. In particular, highly liquid bulk materials (

+8.8

% of gas and petroleum (commodities) etc.) discharged. Inflow of dry bulk goods was also high

(+4.3

per cent), coal etc., than in 2021.

Gas supplies from the US doubled

Gas supply increased by 60 percent to 16 million tonnes. The war in Ukraine required an alternative to Russian gas; As a result, gas supplies from the United States almost doubled (+98 percentage).

Also petroleum and petroleum products (+5.5 percent) discharged. These items mostly come from Middle Eastern countries (Iraq, Saudi Arabia and United Arab Emirates) and Africa (Egypt and Angola). There was a significant decline in the supply of these goods from Russia (-24 percentage).

More coal was supplied, less ore and containers

In particular, more coal was supplied from dry aggregates. 21.2 The percentage is higher than a year ago. On the other hand, fewer minerals were unloaded (-10.2 percentage). Less minerals were supplied especially from Ukraine (from 1.5 million tons in 2021 to 160 thousand tons in 2022).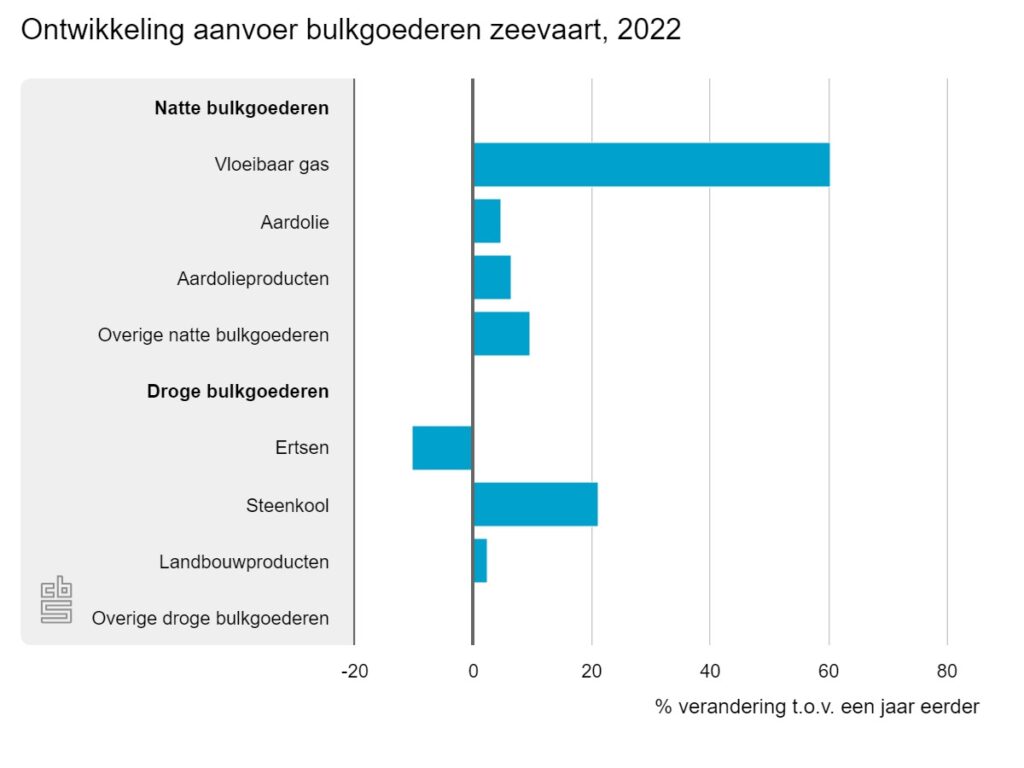 In 2022, less cargo is unloaded and loaded in containers in Dutch ports. The weight of goods in delivered containers decreased by more than 7 percent, and the weight in removed containers decreased by almost 14 percent. This is partly because container traffic to and from Russia came to a near standstill after the invasion of Ukraine; Incoming and outgoing respectively -79 And -70 Percentage less than 2021.
Most of the goods from Russia in 2022, not in the first quarter of 2023
Despite a huge drop in imports from Russia (-32 percent compared to 2021), most goods came from that country in 2022. This changed due to additional EU sanctions from December 2022 (relating to oil, petroleum products and coal from Russia). In the first quarter of 2023, most of the goods came from the US.
Overall, fewer goods were unloaded in the first quarter of 2023 (-2.9 percent) than in the first quarter of 2022. Supplies from Russia fell by almost 80 percent over the same period. It was right from America 46.8 Percent Exceeded: From 9.8 up to million tonnes 14.4 million tons. The rest of the top five countries for imported goods are the United Kingdom (10.8 million tons), Norway (6.8 million tons), China (5.7 million tonnes) and Brazil (5.3 million tons). With Russia in sixth place 3.9 million tons. The same was the case in the first quarter of 2022 19.2 million tons.

"Award-winning beer geek. Extreme coffeeaholic. Introvert. Avid travel specialist. Hipster-friendly communicator."