"The Kruidvat Smart Finder is the smallest, easy-to-use tracking system," the pharmacy writes on its website. Also, "find your stuff with the help of hundreds of millions of friends" made us cringe. All these Apple users are not my friend. But there's still enough arguments to buy the Kruidvat Smart Finder: It's super cheap, works with Apple's Find My network and comes with a loop for your keys. It seems like a great AirTag alternative, but is it? We tested it.
Review, text and photos: Gonny van der Zwaag (@employee). The test took place in June 2023 and describes the situation at that time. Smart finders were purchased by themselves.
Kruidvat Smart Tracker in short
These are the main features:
Smart tracker with Find My function
Dimensions: 40 x 40 mm
Thickness: about 10 mm
Available only in white
MFi accessory certified
There is no special application
Equipped with a key ring
price: 9.99 euros (currently sold out)
Kruidvat isn't the first brand you think of when you think of the Made for iPhone license holder. But the drugstore chain already had an MFi-certified line of cables and now that tracker has been added. So it meets Apple's guidelines and is therefore included in the MFi Extensions Database (Find a template on Smart Finder).
Designed by Kruidvat Smart Finder
Kruidvat opted for a pillow-shaped plastic housing. It is square with rounded corners and measures 40 x 40 mm. It was of course clear that the "smallest tracking system" claim isn't entirely true. The AirTag is actually smaller at 32 x 32mm, but it does require a case to attach to a bag or bag. The Kruidvat tracker does not need a case: the plastic case does not create a luxurious impression and does not require additional protection. There is a hole and a ring for confirmation.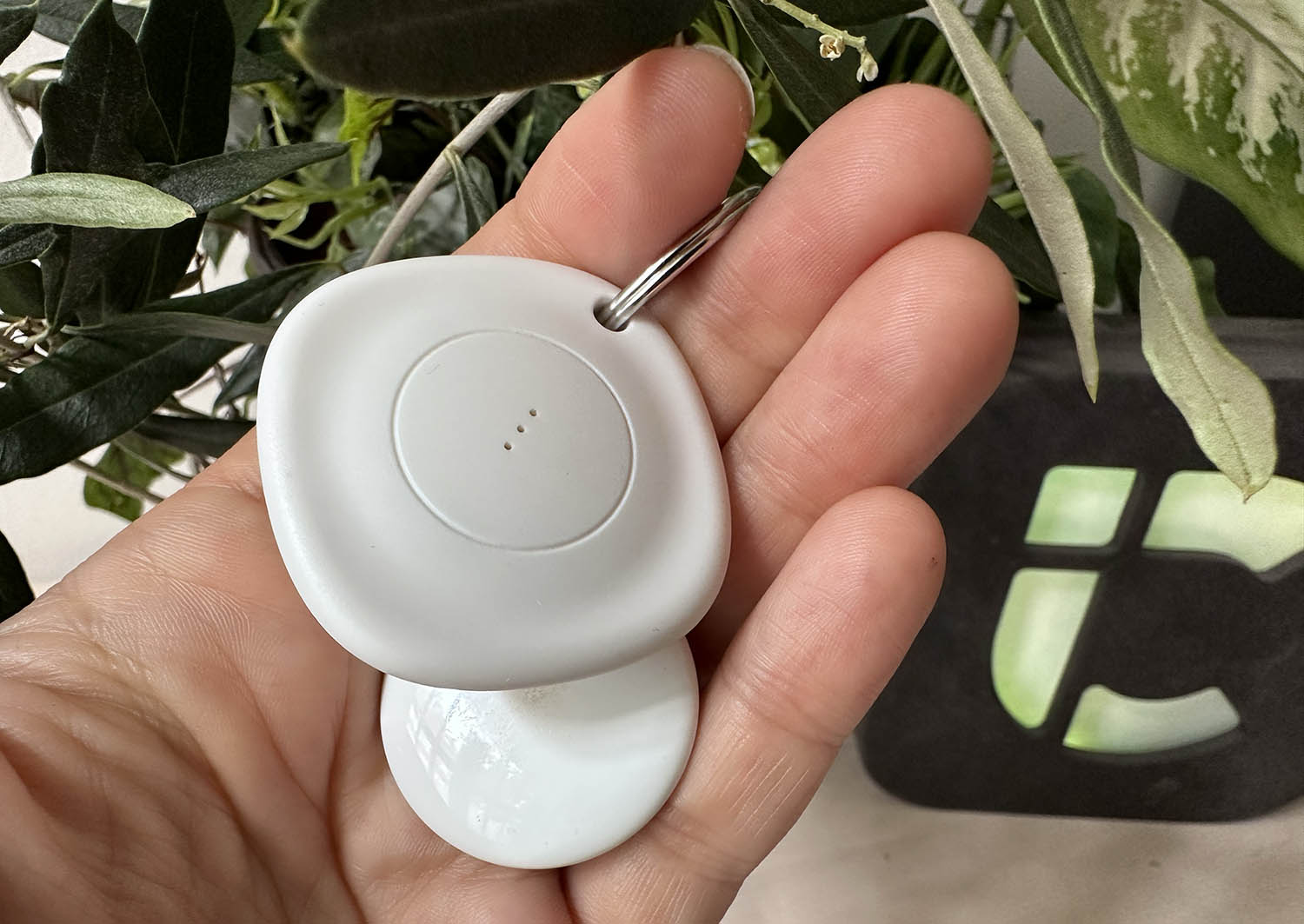 On the front you will find a speaker and on the back there is a notch and screw. To change the battery, you'll have to remove the screw with a small screwdriver, after which you turn the back a quarter turn. The chance of losing it is zero, but that means extra effort. Kruidvat doesn't provide more information, not even about dimensions, water resistance, Bluetooth version, and whether it has NFC. All sorts of functions work as you're used to with AirTag, such as lost mode mode and (in iOS 17) sharing an AirTag with up to 5 others.
This tracker does not have its own app, so you can arrange everything via the Find My app. You also always need an iPhone, which is great in itself, because a discount pharmacy takes away a ton of customers. If you have an Android device, you'll have to look elsewhere. There is no separate version for Android users, as there is with Chipolo and Eufy. I was wondering what Apple ultimately gains from this collaboration. The tracker benefits from "hundreds of millions of friends," Kruidvat says, but by itself it doesn't help you find other people's stuff. Only many used iPhones, iPads and Macs do this. Perhaps you will convince more people to buy the iPhone and this is the most important profit for Apple.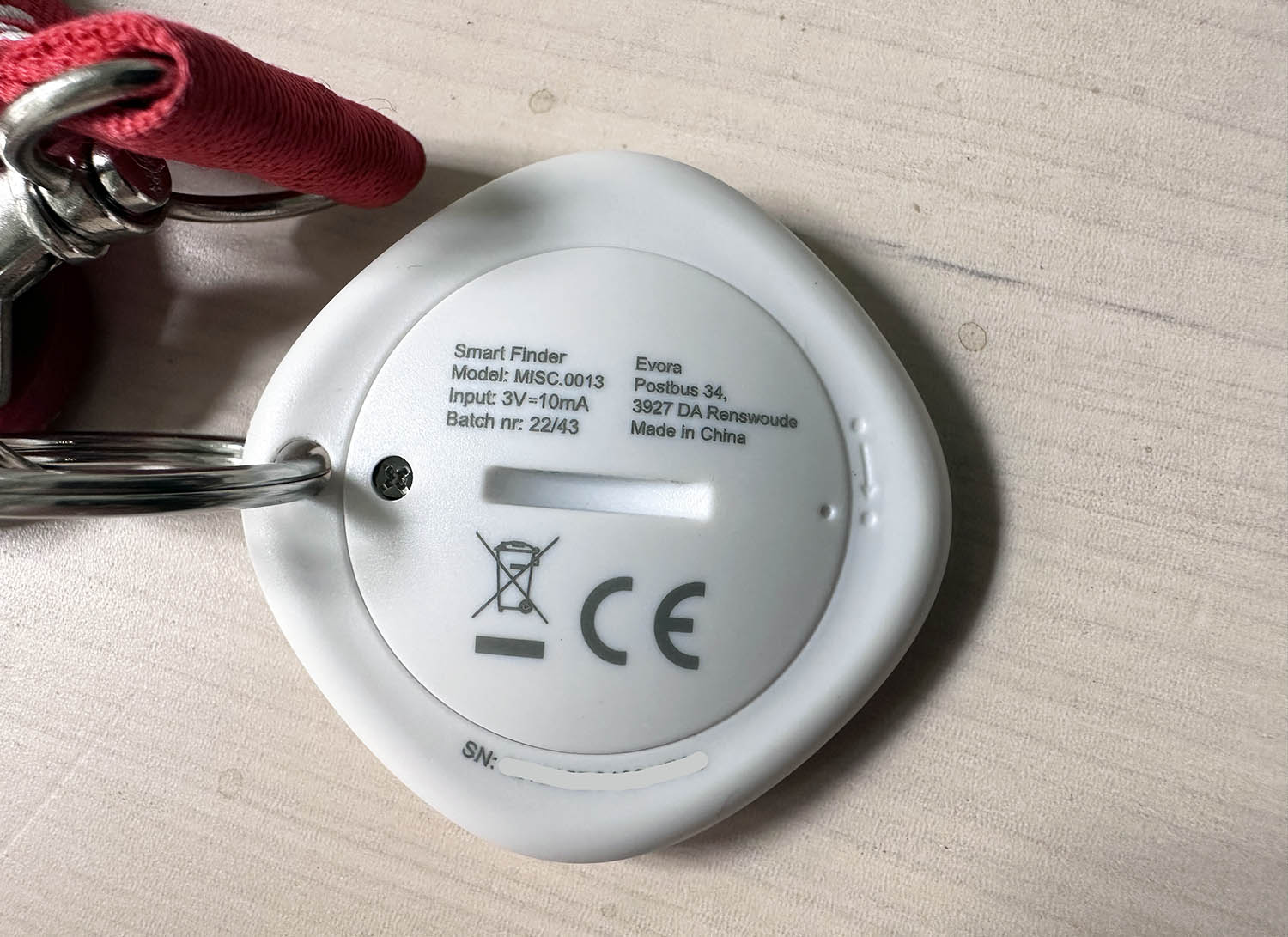 Kruidvat Smart Finder in use
Using such a tracker is as easy as using an AirTag: You open the Find My app, indicate you want to add a tracker, and it appears within seconds. However, you must first remove the plastic tape from the battery in order for the battery to work. The beeps indicate that the tracker is active and can be paired. All of this works fine and audio can also be played without any issues. The tracker begins beeping almost immediately in a regular pattern and one pitch. This makes recognizing the sounds among other sounds more difficult than if the melody was played in different pitches. AirTag also uses a single pitch, but still turns it into a melody.
Since this is a third party tracker, it does not have the U1 chip and cannot perform an accurate search. All you can do is go to it and play a sound, just like the Chipolo and Eufy trackers. This makes these trackers better suited for large objects that you can see clearly, such as cars, bicycles, strollers, and large suitcases. In short: things you can clearly see from ten meters away. For a bunch of keys (which we tested) or any other small object, the AirTag makes more sense, because a bunch of keys can also be under a mountain of laundry or in a pocket.
So finding it yourself is not a problem, but what if you lose your bag and someone else finds the tracker? Then you would also like an honest seeker to be able to contact you. Unfortunately, this is not working very well yet. Or rather not at all. We've seen the tracker on the screen to search for things, but then the next screen is endless waiting/waiting… Whether the tracker was in lost mode made no difference, there would be no follow-up screen. We've tried this many times, while an honest seeker will likely quit after only two or three attempts.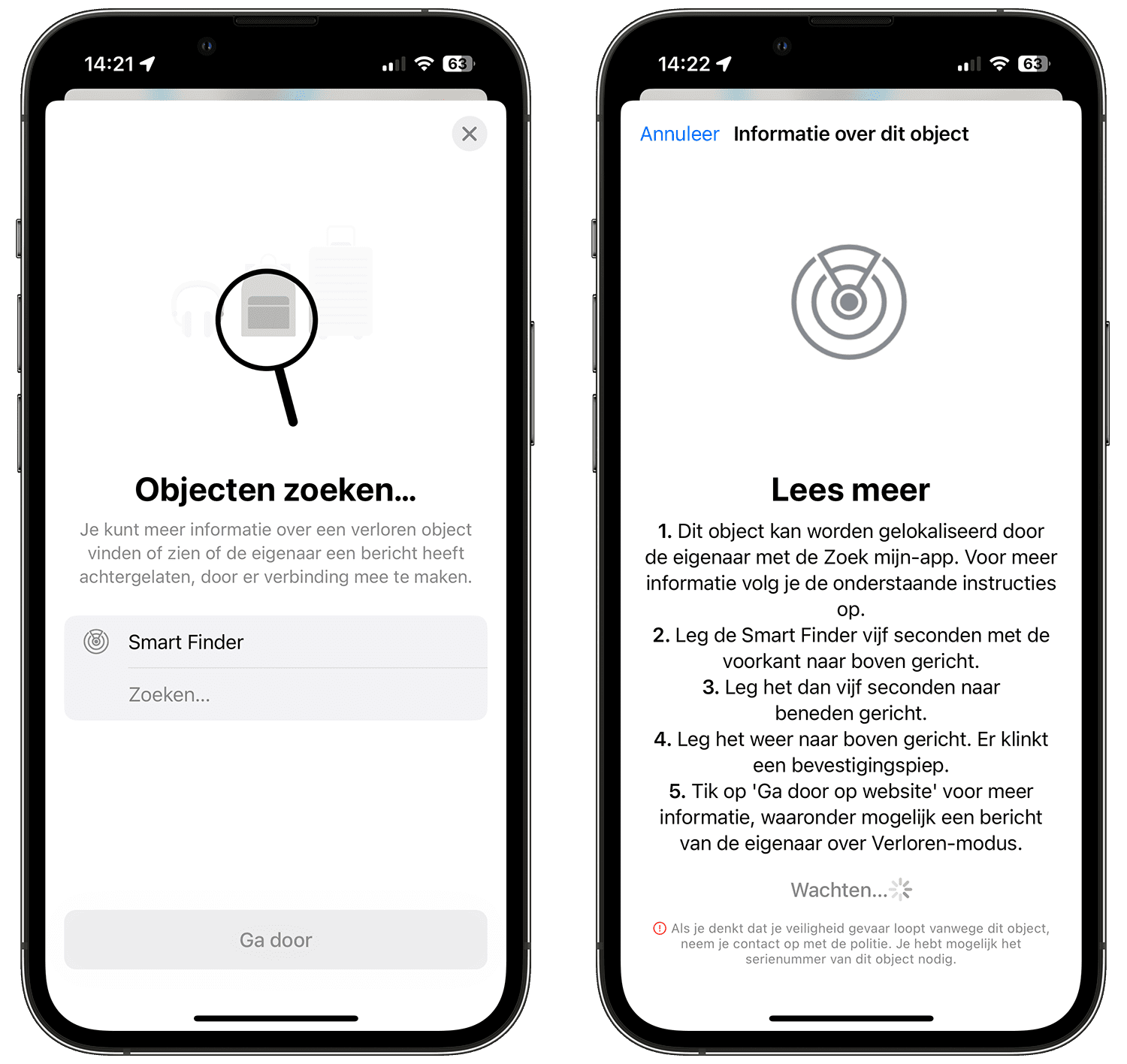 To order more information about the tracker, you have to perform a complete procedure, which is also too much to ask: put the tracker down for 5 seconds with the top up, turn it over for 5 seconds, and turn it over again after 5 seconds. It should beep at that moment, but it really sounds the first time you turn it upside down. An honest researcher has already quit before this procedure is complete and after that it won't work either. But that's not all, because during normal use it also sometimes happened that the tracker made a sound when picked up, because it was looking a little tilted. This has nothing to do with anti-stalking measures (which also work on this tracker). Not annoying, but it shouldn't be.
Advantages
+
Cheap, it costs only 10 euros
Supplied with a hook and loop
A great solution for large objects and non-critical applications
It can also be shared in iOS 17
cons
–
Find Kruidvat tracker not working properly
A screwdriver is required to change the battery
larger than AirTag
Sometimes it makes unexpected beeps
No exact research
Kruidvat Smart Finder review conclusion
The Kruidvat Smart Finder is a cheap solution for things for which an AirTag is too expensive, like an (old) bike. You then have the option of getting a little money to request and find the site yourself, but you shouldn't count on others being able to return your lost item. Checking the tracker by someone else didn't work.
There are a few other points of criticism, such as the beeps at irregular times and the fact that you have to buy a special small screwdriver to replace the battery. If you can deal with these drawbacks, this is a great buy.
Buy Kruidvat Smart Finder
Since this tracker has attracted attention on the Internet, there has been a rush on the trackers, so they are currently sold out. So there is nothing to do but wait until it is in stock again, and then it is again on the shelves for € 9.99.

"Lifelong zombie fanatic. Hardcore web practitioner. Thinker. Music expert. Unapologetic pop culture scholar."