With videoCyclone Italia has now reached the US state of Georgia and has been downgraded to a tropical storm. The storm warning has been withdrawn. About a thousand flights to and from Florida were canceled.

Foreign editorial


Latest update:
08-31-23, 08:52


The tropical storm is still packing winds of 110 kilometers per hour. The storm caused widespread power outages in Florida and Georgia. About 460,000 customers are without power, according to outage site PowerOutage.Us. Reports also suggest that thousands of buildings have been damaged CNN.
Florida Gov. Ron DeSantis said an investigation into whether one death was storm-related was underway, but there were no other fatalities.
Just before Italia made landfall in Florida on Wednesday morning, it was still a Category 4 hurricane with sustained winds of 200 kilometers per hour. The hurricane then quickly weakened and is now near South Carolina.
Italia made landfall in Florida's sparsely populated Taylor County around 7:45 a.m. local time on Wednesday. At that time it was still a category four hurricane. Coastal towns were hit by floods and trees were uprooted by strong winds. Governor Ron DeSantis urged his state residents to be careful and not take risks. During his press conference in Tallahassee, the lights flickered briefly.
Weather services have already assumed that Italia will soon lose strength over land. This is due to an eyewall replacement cycle, which means that a new eye forms in the cyclone and therefore decreases slightly in strength. The warm ocean waters of the Gulf of Mexico are the main source of energy for the storm.
First type
On Wednesday evening, the hurricane, which moved from Florida to southern Georgia, was downgraded to Category 1. Warnings of extreme flooding, very strong winds and storm surges continued. US airlines have canceled about a thousand flights. Almost 800 flights were delayed.
Officials warned of life-threatening high winds and flooding during the day. A 40-year-old driver lost control and crashed into a tree in Pasco County on Wednesday morning and died. In Alachua County, a 59-year-old male driver crashed into a tree in "very rainy conditions." He died of his injuries.
No power
About 130,000 households in Florida lost power early Wednesday morning, according to US media. The National Guard in Florida has declared 'full mobilization' due to severe weather. Thousands of troops have been deployed to help.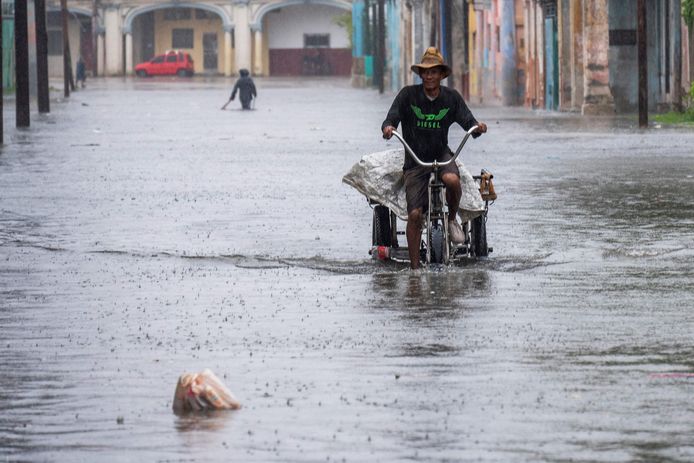 "Very few people can survive a storm surge, and this storm is dangerous if we don't get out of our way and take it seriously," Dean Criswell, head of the Federal Emergency Management Agency (FEMA), said earlier. According to the service, the biggest danger came from water.
By Thursday, Florida's Gulf Coast and the states of Georgia and North and South Carolina could receive 100 to 200 millimeters of rain. In some areas, up to 300 millimeters may fall, the NHC said.
Italia is the eighth major hurricane (from Category 3) to hit the continental United States since 2017. Earlier this week, Italia hit Cuba, causing flooding and power outages in the capital, Havana.
Responding to the disruptive hurricane Wednesday evening, President Biden said, 'No one can deny the impact of the climate crisis anymore.'
Check out our most popular news videos in the playlist below:

Is Unlimited Access to Showbytes Free? What can!
Log in or create an account and never miss a thing from the stars.

Yes, I want unlimited free access

"Award-winning beer geek. Extreme coffeeaholic. Introvert. Avid travel specialist. Hipster-friendly communicator."