You may have seen the Snapdragon name pass by. This is what the chips from the manufacturer Qualcomm are called, which power many smartphones. But what are the differences between the Snapdragon 8, 7, 6 and 4 series? We'll explain it to you!
Read on after the announcement.
Snapdragon chips: Here are the differences
The speed of a smartphone largely depends on the processor used. The more advanced it is, the faster your device will feel and the better you can play games with it, for example. Market leader Qualcomm offers its Snapdragon chipsets in four series, each with its own target group.
If you are looking to buy a new phone, you will probably be interested in the main differences between these Snapdragon series. In this article we guide you through it!
Snapdragon 8
If you are looking for the best, then Snapdragon 8 is the place for you. The latest version is the Snapdragon 8 Gen 2, which we find in almost all the flagships at the moment. Think OnePlus 11, Xiaomi 13 Ultra, and Motorola Edge 40 Pro. The Samsung Galaxy S23 series runs on an overclocked Snapdragon 8 Gen 2 "For Galaxy" chip. It's a little faster, though you'll hardly notice it in practice.
We're also increasingly seeing manufacturers choose a chip that's only one generation older. This brings the price down, while the difference in performance (at least for now) is barely perceptible. For example, the newly introduced Nothing Phone (2) has a Snapdragon 8 Plus Gen 1 chip, just like the Motorola Razr 40 Ultra. This was the fastest processor in 2022 and of course it still holds it.
Smartphones with Snapdragon 8 chipset are usually very expensive. So it is mainly intended for people who make high demands on their device. For example, because you play a lot or want to be able to shoot in HD with cameras. You will find new features first in class 8 and will come to lower position chips later.
Snapdragon 7
We find Snapdragon 7 processors in expensive mid-range cars. Their performance is less than an 8, especially when it comes to gaming, but they still make for a very smooth device. The Snapdragon 778G (Plus) in particular was very popular. For example, it was on Xiaomi 11 Lite, Nothing Phone (1) and Samsung Galaxy A52s.
Newer variants are less common at the moment. Honor recently released the Honor 90 with Snapdragon 7 Gen 1 chip, but other than that, there are few phones with this processor. It's hard to say what that is about. Maybe the manufacturers don't think the value for money is good enough.
That could change with the new Snapdragon 7 Plus Gen 2. It performs much better than its predecessor and is comparable to the Snapdragon 8 Gen 1, which was present in many of the top devices in early 2022. It is 50 percent faster than its immediate predecessor and performs up to twice as fast in games. Xiaomi and Realme have already committed to launching smartphones with this chip.
Snapdragon 6
As we go down to the Snapdragon 6 series, the differences with the top one are getting bigger and bigger. These chips are for the masses, who expect smooth operation and want to surf through 5G, but not play heavy games on their smartphones.
The Snapdragon 695 in particular has been very popular in recent years. For example, it was on the Poco X4 Pro and OnePlus Nord N20 5G. This chip has had a successor since the end of last year: the Snapdragon 6 Gen 1. It's faster and more efficient than the 695. It can power a 200MP camera, does AI tricks and should be able to work even if it isn't. Demanding games run smoothly. Unfortunately, there are no smartphones for sale in the Netherlands with this chip.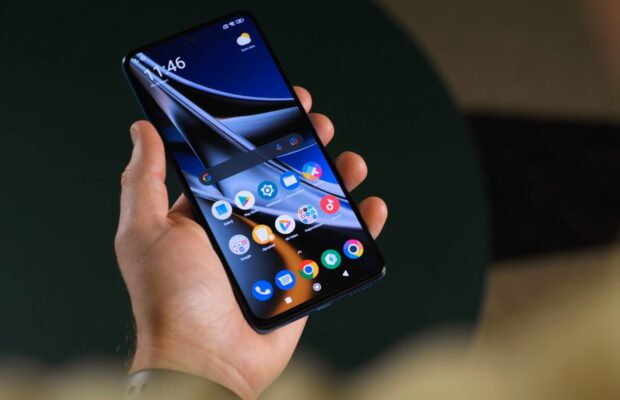 Snapdragon 4
One step lower we find the Snapdragon 4 chipset, intended for smartphones in the budget segment and lower middle class. For example, bringing the Snapdragon 480 5G to budget phones like the Oppo A74 and Nokia G50. They also ensure a reasonably quick process, though you'll notice some hiccups when multitasking with these types of devices. You can forget about serious games.
The new Snapdragon 4 Gen 1 has been improved in a number of areas. For example, it can control a 108MP camera, fast charging is supported and new AI functions are possible. However, 4K video recordings, for example, are reserved for Snapdragon 6 and later. This chip is also not yet found in phones that are on sale with us.
Qualcomm may be the market leader, but other companies also make smartphone chips. Samsung produces its own Exynos processors and Google puts Tensors chips in its Pixels.
However, Qualcomm's main competitor is MediaTek. Until a few years ago, this company was mainly known for its dirty (and very slow) cheap chipsets for budget smartphones. Meanwhile, MediaTek also makes processors that can compete with the fastest Snapdragons. For example, the OnePlus Nord 3's MediaTek Dimensity 9000 is almost as fast as the Snapdragon 8 Plus Gen 1.
Read the latest smartphone news:

"Lifelong zombie fanatic. Hardcore web practitioner. Thinker. Music expert. Unapologetic pop culture scholar."