Ellen Van Gelder

Africa Reporter
Ellen Van Gelder

Africa Reporter
From July 1, the Netherlands will become the second European country where fashion brands become responsible for clothing waste. In Ghana, where used clothes end up en masse, note the scale of the problem that discarded clothing causes.
It's Saturday morning as Ghanaian fashion designer David Boye-Doe makes his way through one of the largest second-hand markets on the African continent, Kantamanto in Accra. It's hard to imagine, but a hundred sea containers full of discarded items arrive here every week. This relates to clothing that is donated to charity, but also to over-produced and unsold clothing.
Worldwide, we buy 60 percent more clothes each year than we did fifteen years ago. The European Environment Agency says that exports of discarded clothing from the European Union to Africa and Asia in particular tripled between 2000 and 2019.
I'm looking for jeans
Designer Boye-Doe is looking for jeans. He wears RecyclingIt takes cut pieces, cuts them into pieces, and transforms them into something new and unique. But researching the market is getting more and more difficult. "The quality is going downhill," says Boye-Doe. "Sometimes there are already holes in it. Cotton is also becoming increasingly difficult to find, and a lot of it is synthetic."
Ghanaian young man Berats fast fashion, the many collections of cheap clothes offered by fashion brands every year. Ghana's capital, Accra, is seeing the consequences: 40 percent of clothing that arrives here ends up as waste, says the OR Foundation, an Accra-based organization that promotes reuse and wants to reduce fashion's environmental damage.
He was accompanied by Africa correspondent Ellis Van Gelder and photographer Sven Torven David Boy DoAnd A young Ghanaian designer curving used clothes: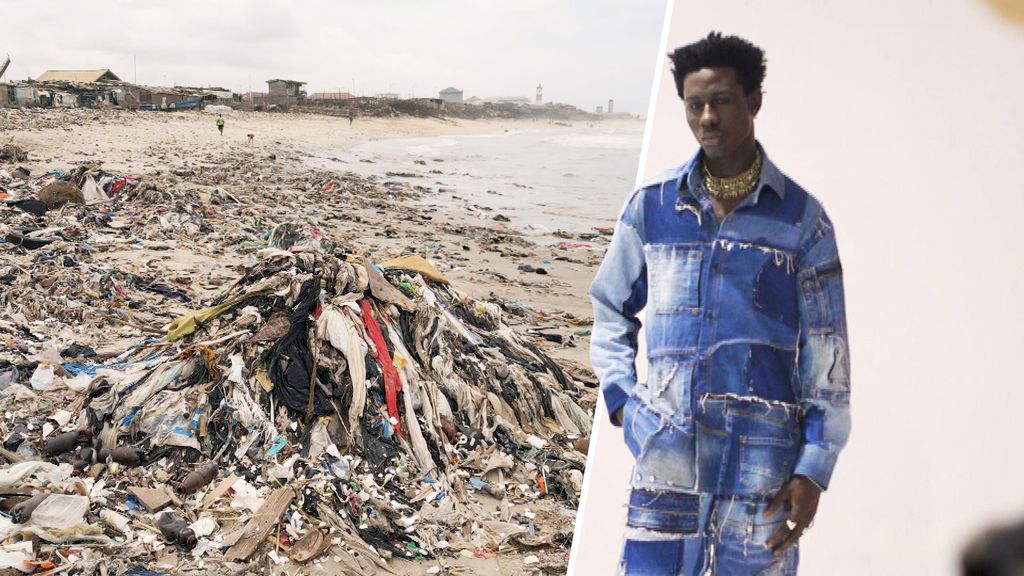 Ghana flooded old jeans: 'Don't you want any rubbish? We don't'
Most discarded clothing goes to official landfills, but much is also burned on the fringes of the market. In addition, there are illegal dump sites, because market sellers have to quickly make room for the next full containers. A lot of clothes end up on the beach through a garbage dump along a river and open sewers that lead to the sea.
Joseph Siao Ayesu of the OR Foundation walks on the beach in Accra and takes pictures of clothing labels with his mobile phone. "The clothes are perfectly twisted together, like some kind of squid," notes Aiso. "We're collecting evidence that we can showcase fashion brands," he explains. "We haven't seen them here yet. They should come and clean up here too."
In the Netherlands, fashion brands must register from July 1, as they will be responsible for the waste they generate. They will be responsible for collecting, sorting, recycling and processing the clothes. In the early years they only have to report how much they produce, from 2025 there will be concrete targets for the amount to process. A plan is also being worked on at the European level to deal better with textile waste. Now only France has such a system.
They should come clean here too.
But there is criticism of the European plans. says Liz Ricketts, co-founder OR Foundation. The organization also wants fashion brands to pay to invest in reusing clothing and processing textile waste in places like Accra. Besides, there is simply too much going on here. Production must be reduced.
Just send us what's really good. You don't want trash and neither do we.
Janine Rölling of the environmental organization Recycling Netwerk Benelux believes plans should also be improved in the Netherlands and Europe. "The policy is now looking mainly backwards, at how we dispose of textile waste. But there should be a minimum quality requirement, for example, so that clothes can last longer and hopefully be reused sooner in Europe and beyond."
Designer Boye-Doe takes yet another pair of jeans from a towering pile on the market. "Consumers should think about where the clothes end up when they throw them away. They think they're doing the right thing if they put it in a clothes basket? That we want it in Africa? Send us only what's really good. You want it not to go to waste and neither do we."

"Lifelong zombie fanatic. Hardcore web practitioner. Thinker. Music expert. Unapologetic pop culture scholar."